On March 30th-31rd, the 2nd China International Mining Investment and Development Summit in 2023 was successfully held in Beijing. With the theme of "Based on China's mining industry to build a global mining development community", the conference will discuss in depth the development trend of the global mining industry. Xinhai Mining was invited to attend the conference as a sponsor. Ms. Zou Kuihuang, technical director of Xinhai Mining, gave a live speech on "Lithium Mine EPC Technology Experience Sharing", and introduced Xinhai Mining's lithium ore one-stop beneficiation mode and innovative lithium ore beneficiation process and equipment to the guests.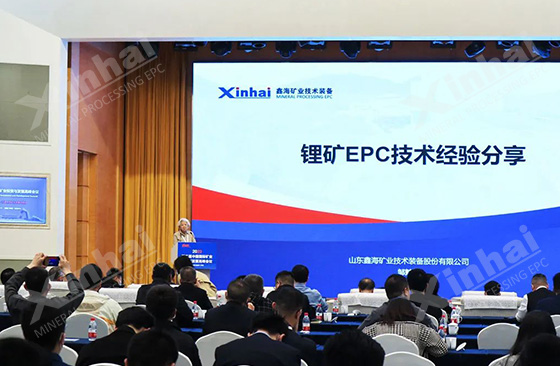 (Ms. Zou Kuihuang is sharing lithium mine EPC technology experience at the conference)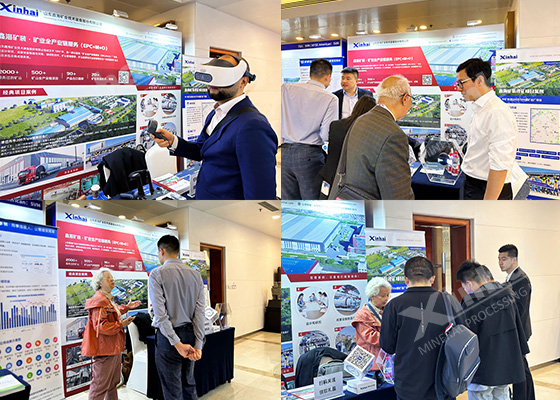 (Exhibition Site)
In recent years, Xinhai Mining has actively participated in the construction of lithium ore processing plants at home and abroad, and has accumulated rich experience in lithium ore technology and lithium ore processing plant operations. In June 2022, Xinhai Mining and Sinomine Resources Group signed a 2 million TPA lithium mine project in Zimbabwe, providing a complete lithium mine customization turnkey service industry including ore beneficiation test research and mineral beneficiation process design, complete equipment manufacturing and procurement, civil engineering, commissioning and delivery to help it build a green, low-carbon, intelligent, and efficient overseas lithium ore processing plant project. The project is under construction in an orderly manner and is expected to be delivered and put into production in June this year.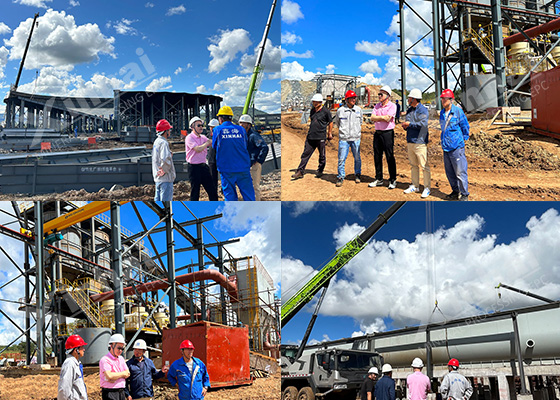 (Chairman Mr. Zhang Yunlong is inspecting on-site)
Use the table of contents below to navigate through the guide:
01

Innovative lithium mine beneficiation test

Xinhai mine research institute has set up a special lithium test and pilot research center. According to the mineral properties of petalite feldspar, experiments are carried out on suitable particle size, ore feeding pressure, specific gravity of dense medium, various structures and parameters of cyclone, etc. When processing the petalite feldspar by heavy medium method, the lithium ore recovery rate can be improved greatly. In addition, for the concentrates recovery of lipidonite and spodumene, Xinhai Mining also adopts special methods in the mineral beneficiation process to improve the recovery rate of lithium concentrate as far as possible.
02

Customized mineral concentrator plant design

No mines in the world are the same, and Xinhai will always provide customized design scheme for your mine. Xinhai will use the innovative thinking to design the project rather than just "copy" scheme. Xinhai mine design institute has grade B design qualification, which can provide all kinds of lithium ore 3D concentrator engineering design and combined steel structure production line engineering design.
03

Efficient lithium mine processing equipment

Xinhai Mining has dedicated in research and development of mineral processing equipment over 20 years and and has been constantly innovating and optimizing the equipment. Recently, Xinhai Mining Service Intelligent Equipment Industrial Park, Xinhai Mining intelligent high-end equipment production center, was put into use. It takes ERP and digital production scheduling as the basis, strengthens the production planning and scheduling center, and improves process design, packaging and shipping planning and design, planning and scheduling to individuals, intelligent manufacturing, and packaging and shipping implementation. It can ensure that every lithium ore beneficiation plant project has a high production efficiency.

Green development and utilization of mine resources has become the industry consensus. Marketing development of lithium mine still occupies an important position. As the proposer and practitioner of Turn-key Solution for Mineral Processing Plant (EPC+M+O), Xinhai Mining will continue to promote the lithium ore processing technology and equipment innovation, provide more green and more efficient one-stop mineral processing plant service to help every lithium ore processing project to integrate the investment,cost, benefit and operation rate, and help the development and utilization of lithium resources to achieve high-quality and sustainable development.