Because of the existence of monomer gold, the most efficient and economical way for gold ore processing is gravity separation. What kind of gold shaking tables are included in the gravity process of gold ore? Which kind of gold shaking table for sale is frequently used? Here is a brief introduction to gold shaking tables for sale.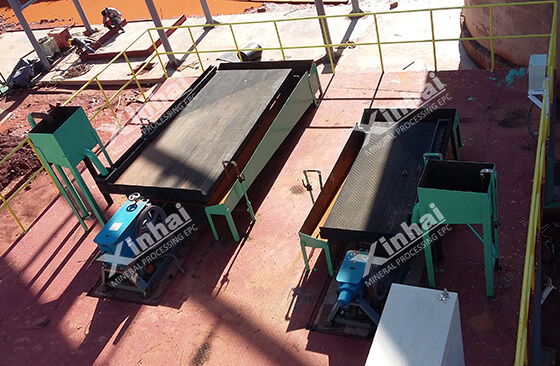 In terms of the gold shaking table for sale, first of all, the ordinary gold gravity process equipment is jigs and gold shaking tables, which are the most commonly used gold mining equipment. There is some special gold gravity equipment like chutes, centrifugal gravity separation equipment. The chute can be divided into the fixed chute, pulsating sluice chute, and tape moving chute. The fixed chute has a simple composition. It is made of powerless, low-cost, and easy operation. Pulsating sluice chute has a lightweight, reliable work and is easy being maintained. Taping moving chutes can ensure the recycling of gold with fine particles and improve the gold recovery rate. Secondly, centrifugal gravity equipment can be divided into a portable gold washing machine, centrifugal pan separator, washing pan, and STL water-jacket type gold separator.
The new surface vortex gold separator has been used in the gold extraction in the south and gets a good effect. The acting trapezoid jigger in the KXT mine can not only be used in gold washing but also can be used in iron ore, tungsten ore, and other important minerals.
Finally, there are some factories that need to be mentioned here that produce gold shaking tables for sale, Shandong Xinhai Mining Technology & Equipment Inc. has won a good reputation both home and abroad, if you are looking for a gold shaking table for sale, please contact our online service, they can give you the best answer about your advisory on gold shaking tables for sale.