On February 9th, Shandong Xinhai Mining Technology & Equipment Inc. signed a strategic cooperation agreement with the Belt and Road Culture, Economic and Trade Promotion Association of Xinyu City, Jiangxi Province. The signing ceremony was held at the Bureau of Commerce of Xinyu City, Jiangxi Province. Mr. Zhang Shengsheng (executive chairman of the Association), Mr. Chen Bingzheng (consultant of the Association), Ms. Song Jing (former deputy director of the Xinyu City Bureau of Commerce), Mr. Wan Zhihua (director of the Nanchang Station of China Economic Herald), Gong Fuming (senior researcher of the National Legal Research Center), Mr. Zhang Linping (former curator of Xinyu Group Art Museum), Mr. Zhang Yunlong (Chairman of Xinhai Mining), Mr. Zhang Zhongyi (General Manager of Xinhai Mining), Deng Wenmin and Mr. Ding Hui (Deputy General Manager of Xinhai Mining) attended the signing ceremony.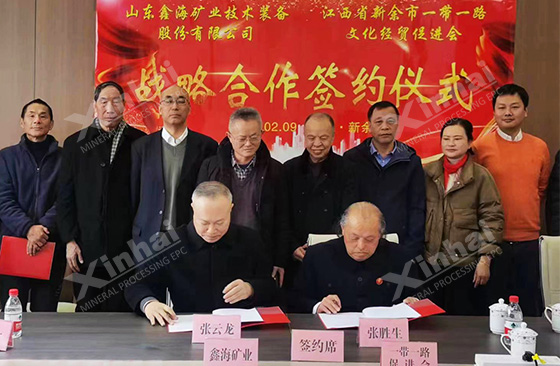 The Belt and Road Culture, Economic and Trade Promotion Association of Xinyu City was founded in 2015, which is a social organization named as " Belt and Road " in Jiangxi Province. It has successfully established mature trade bridges in Russia, Turkey, Belarus, Pakistan and Vietnam and other countries.This strategic cooperation is conducive to the integration and utilization of resources. The two sides will further give full play to their respective advantages, carry out comprehensive and in-depth cooperation in various fields, and jointly commit to the business cooperation in mineral resources development in "Belt and Road" countries and regions.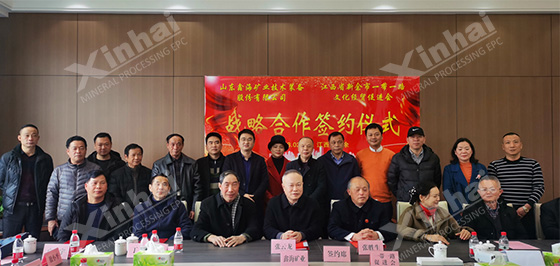 As the proposer and practitioner of "mining whole industry chain service", Xinhai Mining is committed to providing one-stop services including " beneficiation process design and research-manufacturing and procurement of complete equipment-commissioning and delivery-mine management and operation"."The pursuit of excellence, the pursuit of meticulous" is the principle of Xinhai Mining for each link. So far, it has completed more than 2000 mine design and research and equipment supply projects, including more than 500 mine "EPC+M+O" projects.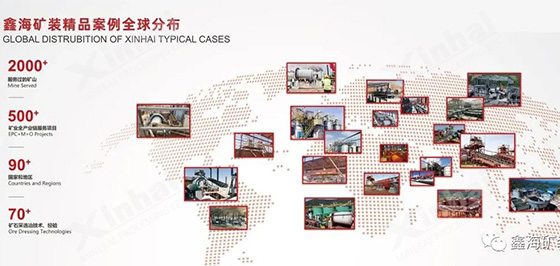 Xinhai mining always uphold the service concept "your need is what we can do", not only can provide high-efficient and energy-saving mineral processing equipment, also can provide the actual innovation practical technology, complete professional mineral production line configuration, high quality considerate butler service, and help every customer to build profitable modern mining enterprises!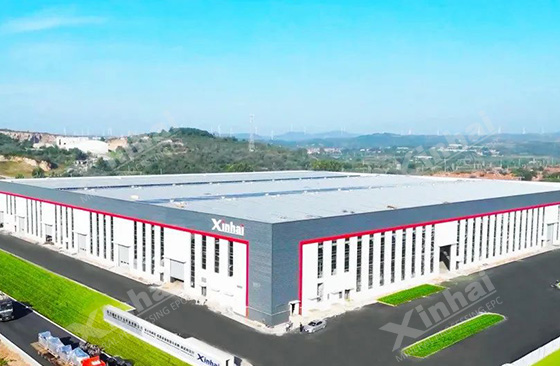 Transformation and upgrading, the prospect of Xinhai Mining is promising. In 2022, Xinhai Mining Service Intelligent Equipment Industrial Park, which integrates intelligent high-end equipment production center, data monitoring center, mineral beneficiaition test and design center, and R&D center, was officially put into use, and Xinhai Mining will officially open a new development stage of "industrial interconnection". Xinhai Mining will also seize the opportunity, meet the challenge, promote the internal transformation and upgrading of the enterprise, follow the pace of "Belt and Road" development, deepen mutual benefit and win-win cooperation!