On November 28, 2017, the Second Overseas Mining Investment Summit, hosted by China Mining Association, opened in Beijing. With the theme of cross-industry promotes "One Belt And One Road" mining global cooperation on production capacity, this summit was intended to create a cooperation platform between mining industry and other industries. Ministry of Land and Resources relevant departments and China Geological Survey relevant departments under the charge of people and more than 400 specialists and experts from mining enterprise, geological prospecting unit, industry associations and scientific organizations took part in the summit.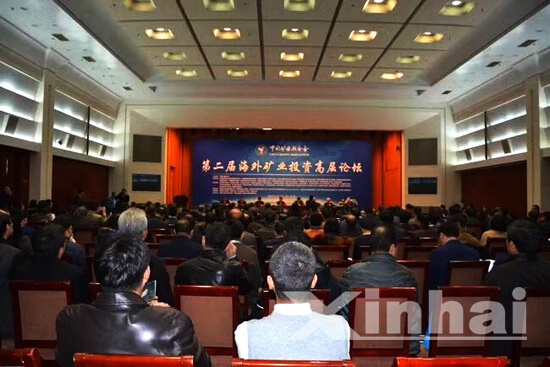 Weixing Cao, vice minister of Ministry of Land and Resources attended and addressed the opening ceremony. Cao pointed out, as the basic and leading industry, geology and mining industry occupies an important and special position in international production capacity cooperation. At the same time, because of its industry positioning and development law, mining industry was difficult to fight alone, which often needed to work with other industries, such as transportation, manufacturing, electricity and service industry. This summit was aimed at building platform and mechanism to promote exchanges and cooperation between mining industry and other industries, which reflected the specific measure that implemented the spirit of the nineteen and promoted "One Belt And One Road" construction.
At the summit, Jianxing Liu, deputy director of international cooperation center of National Development and Reform Commission, introduced the implementation progress and development outlook of "One Belt And One Road". Wenbo He, chairman of China Minmetals, introduced the new opportunities and new development of large mining enterprises in the new era. Yang Kun, president of China Power International Cooperation Union, presented the situation and inspiration of China international production capacity cooperation in electric power. Then, Li Tong, chief executive of Bank of China International, looked into the mining financial cooperation under the policy of "One Belt And One Road". And Duoling Van, partner of Beijing office of K&L Gates LLP, analyzed the cross-industry production capacity cooperation from a legal perspective. Besides, Jin Xin, general manager of alicloud future energy department of Alibaba Group, shared the new idea of Internet + mining enterprises.
Yunlong Zhang, chairman of Shandong Xinhai Mining Technology & Equipment Inc, was invited to attend this summit and delivered a keynote speech on mining investment and technical services experience in Southeast Asia. Zhang shared some points about overseas mining investment and technical services from the responsible investigation, development thinking, determination of technical scheme, building projects, personnel allocation and more details six aspects by combining with many years of mining EPCM service experience, then communicated with many participants by referring on a large number of project cases, practical experience and potential problems in the overseas investment process. Zhang said: "domestic mining enterprise often determine the technical scheme with domestic thinking when opening overseas mining market (design institute determines it in "COPY" mode or technical personnel determine it according to previous experiences). However, foreign mines are totally different from domestic mines in resources endowment, ore properties, construction conditions and material prices, which must be tailored". What's more, taking three gold mine projects in Malaysia, Indonesia and Malaysia as examples, Zhang demonstrated the importance of technical scheme innovation, representative methods that ensured the processing samples (mining planning – sampling – ore dressing experiment - mine design – mine construction – mining production –ore proportioning according to planned sample scheme of ore dressing experiment – ore dressing production) and an open thinking that not based on experience as the only criterion in mine construction.
Xinhai responses positively to national policy ore by starting with technology for more than 20 years. We gradually merged "Internet +" and "One Belt And One Road" into enterprise developing strategy and has been at the forefront of mining market. What you need is what we can do! In the future, Xinhai will never forget initial determination and continue to forge ahead.