The seventh Yantai Moral Model Award Ceremony was held in Yantai Grand Theatre in December 10th 2019. This activity was jointly organized by Yantai Municipal Propaganda Department, Yantai Civilization Office, Yantai Federation of Trade Unions, Yantai Municipal League Committee, and Yantai Women's federation. The Chairman of Xinhai Mining, Mr Yunlong Zhang won the Honor, Moral Model of Honesty and Trustworthiness, again!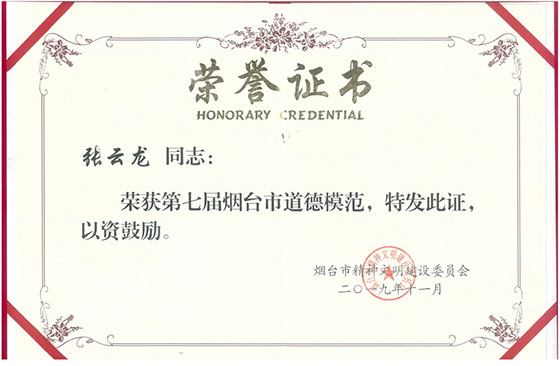 Mr Yunlong Zhang, the Chinese Communist Party member, is the 18th people's representative of fushan district, yantai city, Fellow of Australasia Mining and Metallurgical Institute(FAusIMM), international mining consultant, advance mineral processing engineer. He is the current chairman and general manager of Shandong Xinhai Mining Technology&Equipment Inc, the executive director of Yantai Xinkuang Engineering Technology Services co. LTD, the executive director of Yantai Xinlianhai Supply Chain Management co. LTD, the executive director and manager of Yantai Xinhai Mineral Research&Design co. LTD. He also holds the post of adjunct professor of Shandong University of Science and Technology, Shandong University of Technology, and Heilongjiang University of Science and Technology, the college student entrepreneurship tutor of Yantai University, the vice president of China Mining Association Green Mine Construction Promotion Committee, the vice director and panel member of China Gold Industry Technology Innovation Strategic Alliance Council, the chief technologist of China Circular Economy Association Precision Forming and Remanufacturing Professional Committee, the vice president of Clay Minerals Professional Committee of China Nonmetallic Mining Association, and the president of Yantai Cross-border E-commerce Association.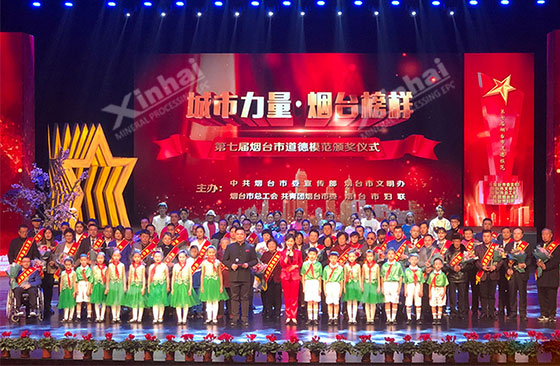 As a private entrepreneur, Mr Yunlong Zhang always insists his idea, managing with honesty and treating with trusts. During his 35 years in mine industry, he successively served as assistant engineer, engineer, deputy chief economist, manager and other positions. Depending on his devotion to mine industry and the response of manufacturing industry developing in China, Mr Yunlong Zhang founded Yantai Xinhai Mining Machine co. LTD in 1997. Under his leading, Xinhai Mining actively responses the policy "One Belt and One Road". Till now, Xinhai Mining accomplished over 2000 projects for mine design and research, and equipment supply. Among them, there are over 500 Mineral Processing EPC+M+O projects in more than 90 countries and regions all over the world. Xinhai Mining becomes high-techn enterprise.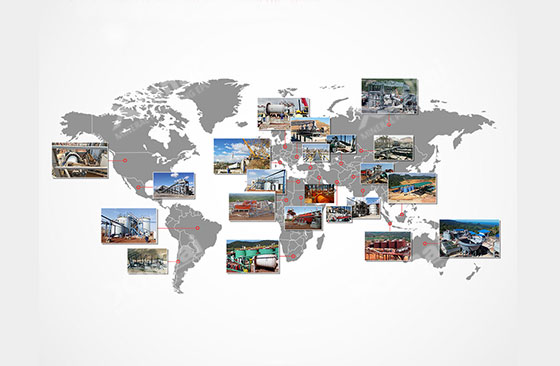 By the instruction of Mr Yunlong Zhang, Xinhai Mining is conscientious to every project. Think what clients think, urgent what customer urgent, and solve what clients stump. In 2018, Xinhai Mining undertook the construction of China-Uganda International Production Capacity Cooperation Park. As the responsible department of the mineral processing equipment manufacturing and installation commission, the installation and debugging team of Xinhai Mining was in the trouble of high construction requirements and nervous time limit. Under the leading of Mr. Yunlong Zhang, they overcame many difficulties such as delayed arrival of equipment due to sea transportation and customs clearance, frequent power cut and raining and so on. The system installation was accomplished in 50 days. It also passed the single machine commissioning, the online commissioning, and pick-up trial-production once. It is unprecedented Xinhai Speed! It reached the basic requirements of park before grand opening. After the completion ceremony, the president of Uganda, Mr. Museveni, praised the spirit of tough and punctuality, gave a good appraisal to Xinhai Mining.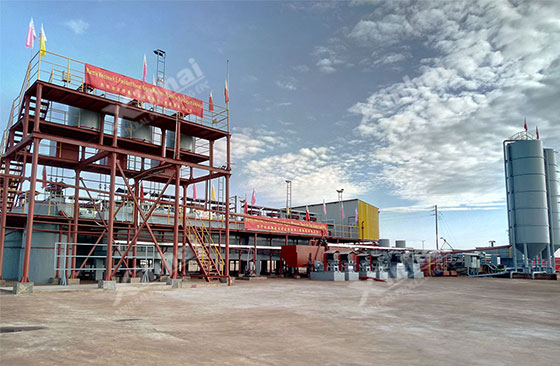 At work, He keeps improving, leading the enterprise a good development. Besides, Mr Yunlong Zhang also undertakes the society responsibility of private entrepreneur. In 2017, Xinhai Mining took the lead in establishing Fushan District Cross-border E-commerce Association. Mr.Yunlong Zhang served as the president. Later he became the president of Yantai Cross-border E-commerce Association, providing convenience for young and middle-aged cadres to enhance their ability to serve economic development. Besides, he sacrifice his weekends, sharing enterprise development experience to other enterprises. At the same time, Mr Yunlong Zhang didn't forget to give back to society. He leads the employees to the nursing house for years, sending them the washing machine, milk, mixed congee and other things, sending the winter warmth and care to the old people.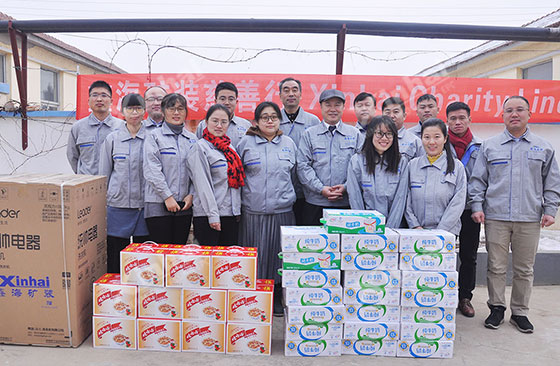 After the award ceremony, Mr. Yunlong Zhang subsidized Yunpeng Li, the child won Moral Model of Filial Piety and Love for the Elderly. The funding won't end until he comes to the college.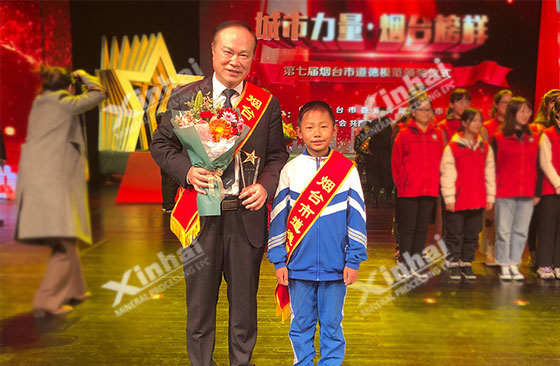 As the representative of the 18th people's congress of Fushan district, yantai city, Mr Yunlong Zhang also won the Moral Model of Honesty and Trustworthiness in Fushan District, "Shandong Good Man", "Gold Model Chairman of the New OTC Market" of Sina Finance and Economics, Outstanding entrepreneurs of intelligent manufacturing in China, Shandong Excellent Information Officer, China Excellent Information Officer and many other honors before.
The Yantai moral models selection recognition event held every two years, the overall standard is: love the motherland, support the leadership of the communist party of China, actively practice the socialist core values, the social morality, professional ethics, family virtues and individual morality construction in the outstanding performance, with good comprehensive moral quality, is the social from all walks of life and moral standard of the people recognized. The award was divided into five categories: "model of helping others", "model of doing good deeds", "model of honesty and trustworthiness", "model of dedication" and "model of filial piety and love for the elderly".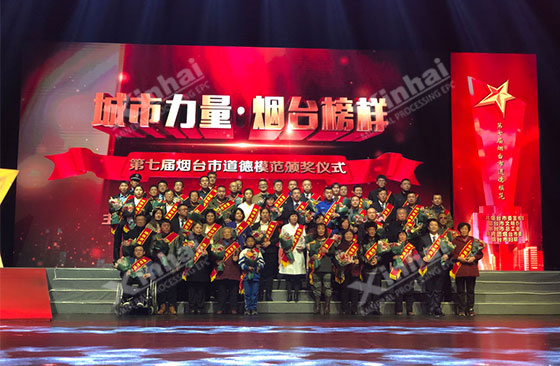 This time, winning the honor of Yantai Moral Model of Honesty and Trustworthiness is the highly affirm of Mr. Yunlong Zhang and his idea of honesty management. Under his leading, Xinhai Mining will continue to implement the management concept of managing with honesty and treating with trust, with the service idea "what you need is that we can do", provide excellent one-stop Mineral Processing EPC+M+O service for global clients.