Manganese ore is an essential mineral element in modern industry, especially in the iron and steel industry, the consumption of manganese ore is as high as 90~ 95%. However, most manganese ores belong to finely disseminated or fine-grain disseminated manganese ore, a fair amount of high phosphate ore and high iron ore and other useful raw metals are associated with manganese ore which bring great many difficulties to manganese ore beneficiation process.
At present, the common manganese ore beneficiation processes include washing, screening, gravity separation, strong magnetic separation and flotation, etc. Generally, manganese ore beneficiation process adopts magnetic separation process mostly that has simple operation and strong adaptability. Bedsides, magnetic separation process can be applied in various manganese ores.
Introduction
1. Crushing and Screening
Xinhai often adopts three stage a closed circuit crushing process that is the most ideal process for crushing high hardness manganese ore. It can effectively crush raw ore to monomer separation, and get proper grinding fineness. Firstly, the manganese ore is sent to jaw crusher by ore feeder for coarse crushing. And belt conveyor send them to hydraulic cone crusher for secondary crushing. Then manganese ore is sent to the spring cone crusher for fine crushing. The fine material uses round vibrating screen to screen. The sieve materials is returned to fine crushing, and fine crushing material enters into ball mill.
Ⅰ.Coarse crushing equipment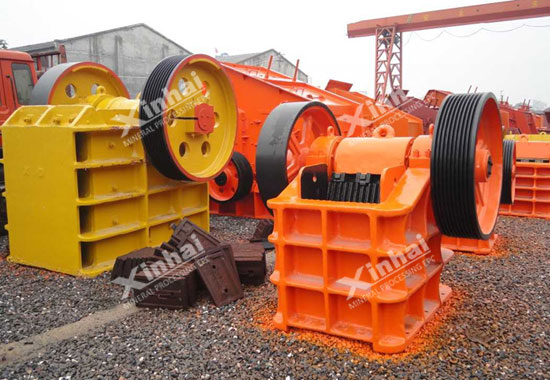 Jaw Crusher
Jaw crusher is mainly used for medium-size crushing of various ores and bulk materials. It can crush those materials whose compressive strength is up to 320Mpa. With 20 years of development, Xinhai has successfully developed PE, PEX, ZGPE and ZGPEX four types of jaw crushers. The feeding particle size is about 80 ~ 250mm and the largest output of single machine is up to 398t/h, which is the first choice for coarse crushing of manganese ore.
Features:
√ Deep cavity crushing ratio, cavity shape optimization design, high crushing efficiency;
√ High speed of mobile jaw, curved jaw plate design, high production capacity.
Ⅱ.Secondary and fine crushing equipment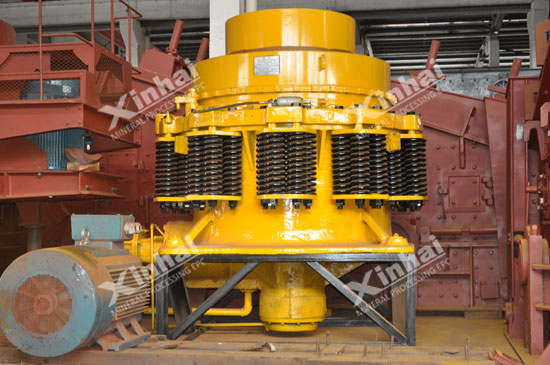 Hydraulic Cone Crusher
Xinhai hydraulic cone crusher is an internationally advanced crushing equipment, which has high reliability, high crushing efficiency, low operating cost and good product design. It is widely used in mineral processing and gravel aggregate industry with its optimized cavity type, higher production, and better quality.
Features:
√ Achieve lamination crushing under choke feeding situation, and make the grain shape better;
√ Convenient transformation between coarse crushing and fine crushing. Because of same main structure, different crushing cavity type can be obtained by replacing lining board.
Ⅲ.Screening equipment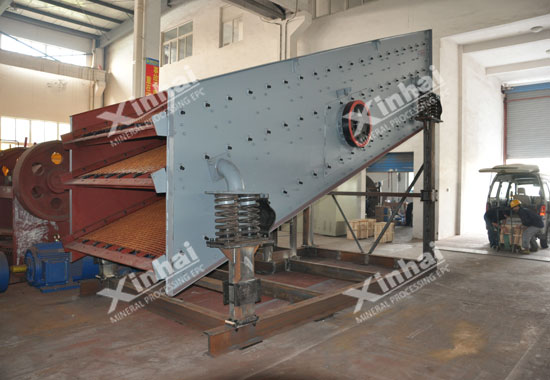 Round Vibrating Screen
Round vibrating screen is mainly composed of screen box, sieve mesh, vibrator and vibration damping spring. It is a multi-layer and efficient vibrating screen that is featured with reliable structure, strong excitation force, high screening efficiency, small vibration noise, convenient maintenance. Xinhai possessed various type of circular vibrating screens, which are widely used in mineral processing, building materials and electric power departments.
Features:
√ Xinhai rubber screening mesh, long service life;
√ Ring groove rivets connection, advanced structure, strong and durable;
√ Reasonable mechanical structure, low noise and high screening efficiency.
2. Grinding and Classifying
After processed by vibrating screen, 0-12mm manganese powder is evenly sent to ball mill, then sent to spiral classifier. Finally, the qualified material enters to separation process, and coarse grain material is returned to ball mill for grinding.
Ⅰ.Grinding equipment
Ball mill is a common grinding equipment that is widely used the grinding stage of iron ore, gold ore, manganese ore, tungsten ore, copper and other minerals. It can grinding ore below 0.075 mm, which realize fully monomer separation, so as to next operations. According to different discharging modes, ball mill can be divided into grid type ball mill and overflow type ball mill two kinds.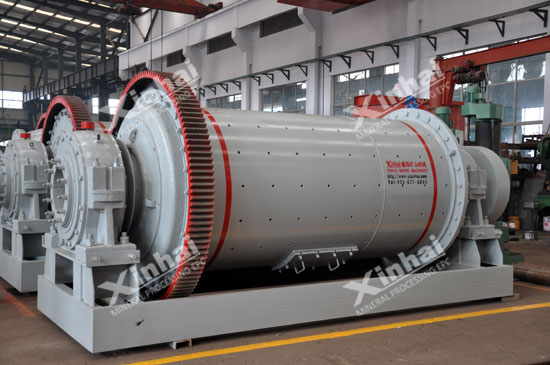 Grid Type Ball Mill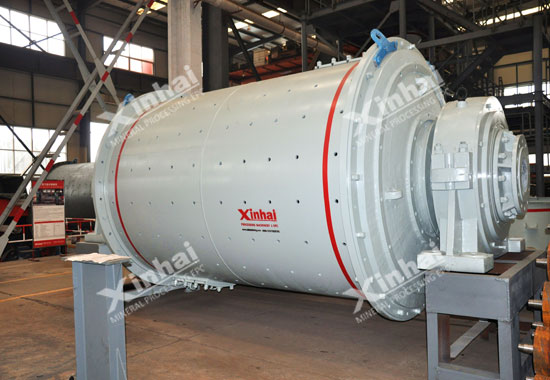 Overflow Type Ball Mill
Ⅱ.Classifying equipment
Spiral classifier is one of the classifying equipment for ore dressing. Relying on different proportion of solid particles, the sedimentation rate of manganese ore in the liquid is different, so manganese ore can be classified.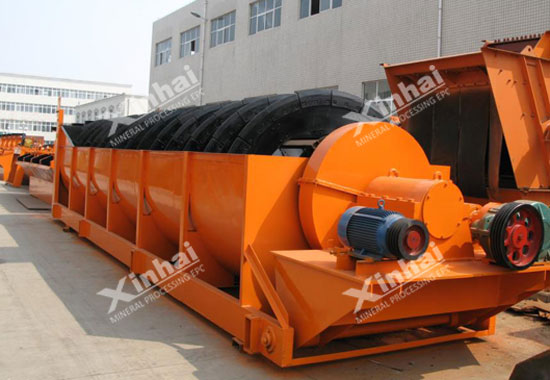 Submerged Spiral Classifier
3. Separation
Manganese ore is sent to magnetic separator for removing impurities. Manganese minerals belong to weak magnetic minerals (specific susceptibility: X=10×10-6~600×10-6cm3/g) can be recovered by high intensity magnetic separator under Ho = 800 ~ 1600 ka/m (10000 ~ 20000 oe), which can improve 4% ~ 10% manganese grade.
Ⅰ.Magnetic separation equipment
Magnetic separator is widely used in mineral processing, recourse recycling, timber industry, ceramics, chemical, food and other fields. It is suitable for wet magnetic separation of magnetite, pyrrhotite, roasted ore and ilmenite (below 3mm size), and also used in the deironing operation of coal, non-metallic minerals and building materials.
Ⅱ.High-intensity magnetic separator
High-intensity magnetic separator has more than 10000-16000 GS magnetic field, it is mainly used in weakly magnetic minerals, such as hematite, limonite, manganese and red mud, and also applied to weak magnetic minerals, such as titanium iron ore, wolframite, siderite, chromite.