As one of widely used gravity separation equipment that separates fine materials, 6s concentrating table (also as 6s shaking table) has been widely applied in roughing, cleaning and scavenging operation of gold ore, iron ore, zinc, tungsten, tin, manganese and other rare metals and precious metals. Its biggest feature is that high rich ore rate and separation accuracy, so it is easy to obtain the high-grade concentrate, and also divide final tailings and middling product, which can effectively deal with fine materials.
The separation process of 6s concentrating table is realized by using the asymmetric reciprocating motion of bed surface. The feeding tank of 6s concentrating table bed sends ore grain, feed water tank provides horizontal washing water at the same time. Under the inertia and frictional force of gravity, horizontal flow momentum and asymmetric reciprocating motion, the particles move longitudinally along bed surface and move transversely along inclined bed surface according to the proportion and granularity theory. The particles with different proportion and particle sizes gradually flow down in their respective motion direction, respectively discharge from concentrate port and tailings port that will be divided into concentrates, middlings and tailings.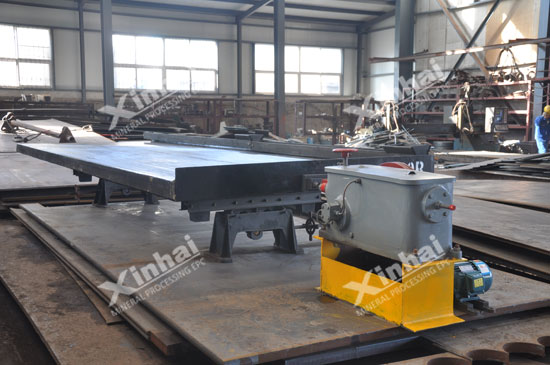 After more than 20 years of continuous research and innovation, Xinhai adds crank link device on the basis of traditional 6s concentrating table , which enables the longitudinal reciprocating motion realized through the crank link device. The motor drives crankshaft rotating, then the rocker moves up and down. When the rocker moves down, the bracket pushes back shaft and reciprocating lever back, then spring is compressed, and the bed surface is connected with the reciprocating lever by the linking device, so the bed moves backward. When the rocker moves upward, the bed moves forward due to the spring extension.
With its unique advantages, Xinhai 6s concentrating table has been widely used in the fields of mineral processing, construction and chemical engineering, and has been highly praised by various customers.
The reason why Xinhai 6s concentrating table has achieved such a proud achievement is related to the spirit of "Making It Better". In reference to domestic and foreign advanced processing technologies, Xinhai continuously made series of reform and innovations in mineral processing service, whose mineral processing equipment has made a breakthrough in technology level, which brings infinite vitality for the whole industry.