KYF flotation cell and XCF flotation cell are both common flotation equipment. They usually show in mineral processing plant together as partners. What are their own traits and what is the effect with each other? First, let's know something about their own traits.
Use the table of contents below to navigate through the guide: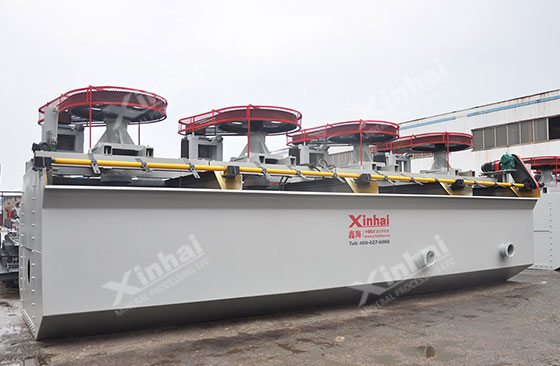 KYF flotation cell is one of air-inflation agitation flotation cells. Slurry recycles by impeller rotation. After mixed with air between impeller blades, slurry is expel on the periphery of upper half of impeller. Then the slurry move to inclined top, separated to the whole cell after stable and orientated by stator installed on the oblique upper part around the impeller. The mineral bubbles are up to the surface and forming forth. The forth flows into forth cells. The slurry recycled to the impeller area, and some part of them was sent to slot for reprocessing through the circulation hole.
In the application, KYF flotation cell has traits such as strong agitation capacity, uniform air distribution, high flotation index, low consumption, and energy-saving 30% to 50%. Without devices for self-suction and self-inspiring, KYF flotation cells need to be device on stairs. The middlings need to be recycled by forth pumps, while the forth pumps are not wear-resistance and hard for transforming the viscous forth, so that the flow is stumble. It is difficult for complex flotation flow or concentrating, so KYF flotation cells are used as the DC slot of combine flotation unit.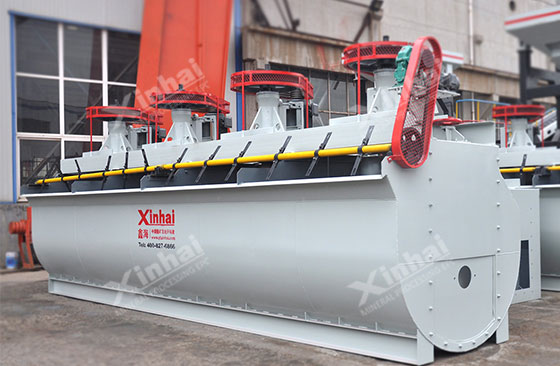 XCF flotation is also one of air-inflation agitation flotation cells. With the same U-shaped fracture structure, the impellers fracture of XCF flotation cells are double inverted cone shaped. There are air distributor in impeller chamber. The biggest difference between XCF flotation cell and KYF flotation cell is that XCF flotation cell realize self-suction. Slurry can be sucked from the upper blade of the impeller to the ore directly, through the lower end of the impeller to the lower blade around.
In terms of configuration, XCF flotation machine can self-suction due to the negative pressure zone formed by the special stator above the impeller, which can realize horizontal configuration without the addition of forth pump. But at the same time, XCF flotation machine consumes slightly higher power, which can be used as the suction tank of combined flotation unit.
03

Why are the two flotation cells used together?

If KYF flotation cell was used in a new processing plant, the altitude intercept between every operation should be 300-500 mm, which increased the investment. For KYF flotation cells in old processing plant, the altitude intercept are fixed. It is hard to modify the altitude intercept. Therefore, the application of KYF flotation cell are restricted.

KYF and XCF flotation cells can form combined flotation unit, which can improve the stair configuration of KYF flotation cells, and also saving the cost of forth pumps. It provides a new way to choose flotation cells for new processing plant, and also providing a economy and easy way for old processing plant.

1. Realizing horizontal installation and reducing capital construction

According to the requirement of ordinary processing plant, coarse, scavenging, and concentrating flotation needs 5 stairs for KYF flotation cells. It needs altitude intercept in 2 m, which high increases investment costs. If combining the two types of flotation cells, they can be installed on the horizontal level and reducing the capital construction cost.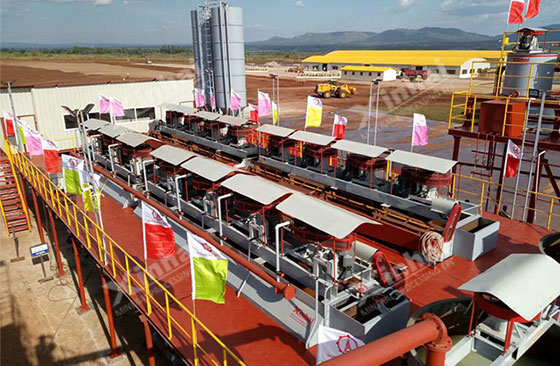 2. Reducing energy consumption and equipment demage
Besides, horizontal installation can be reduce energy up to 20%. KYF flotation cell has a low consumption. The flotation consumption is increased by forth pump. For example, 10 KYF flotation machines of 16 cubic meters and 5 KYF flotation machines of 8 cubic meters, 4, 2 and 1 4vr-vf, 6rv-af and 8rv-af foam pumps were used in a processing plant, with the total installed power of 650kw. XCF flotation machine was added in the later reconstruction, and KYF flotation machine of 16 cubic meters was changed into plane configuration, with the installed power of 445kw.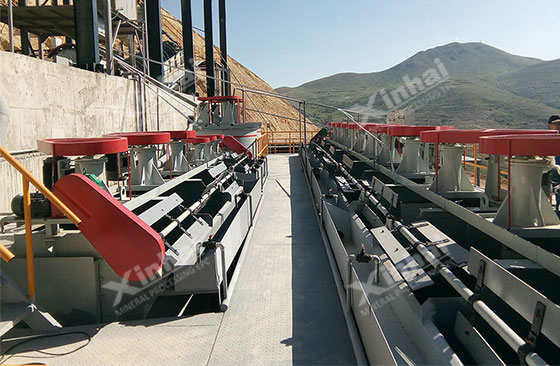 When KYF flotation cell is using alone, the wear degree is 3 to 6 times of flotation cells for the ladder configuration needs to be equipped with foam pump when the mine returns. Due to high rotation speed, high line speed, fast wear of impeller and pump shell, etc. Moreover, the foam pump maintenance group should be added in the maintenance and repair operation. The KYF flotation machine is used in combination with XCF flotation unit. After horizontal configuration, the foam pump is removed, which can improve the overall operation rate of the separation plant and avoid various disadvantages caused by the foam pump.
3. Special construction structure and improving processing effect
Although both KYF flotation cell and XCF flotation cell adopt u-shaped section, KYF flotation cell has no upper blade suction, while XCF flotation cell has upper blade suction. Combined use of the two, it can use XCF flotation cell blade to complete suction to ore and medium ore operations, improving the overall efficiency of ore dressing.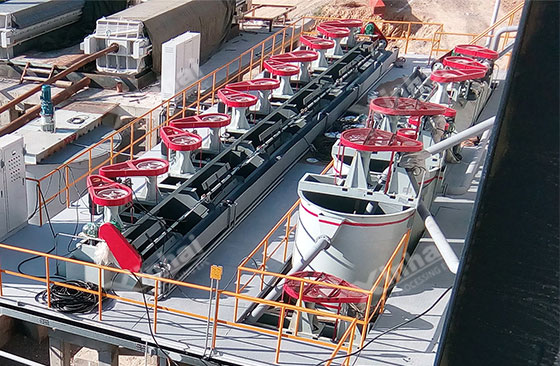 The combination of the two machines can also do single-wall backward leaning blade design, which can enlarge the contact surface between the blade and pulp, and form a strong stirring capacity at a low speed, which is conducive to promoting pulp dispersion, improving restart capacity and reducing "flower turning" degree.
Therefore, combined with XCF flotation cell, KYF flotation cell can reduce equipment management and maintenance operations, reduce system energy consumption, reduce investment cost, improve mineral processing efficiency, and achieve the effect of 1+1>2.
04

Xinhai Mining Flotation Cell Application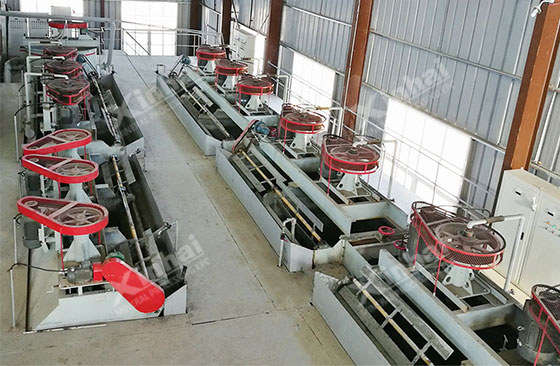 Morocco 500tpd silver flotation project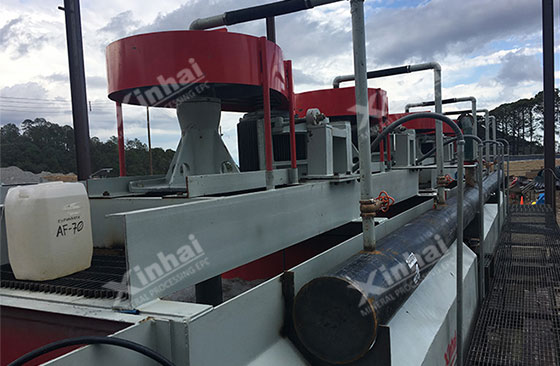 Columbia 1000tpd copper flotation project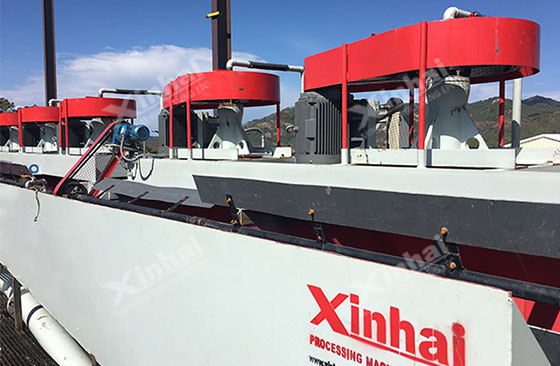 Mexico 1500tpd multi-metal flotation project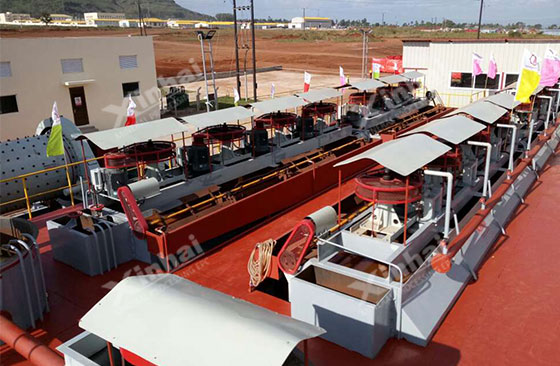 Uganda 720tpd phosphate flotation project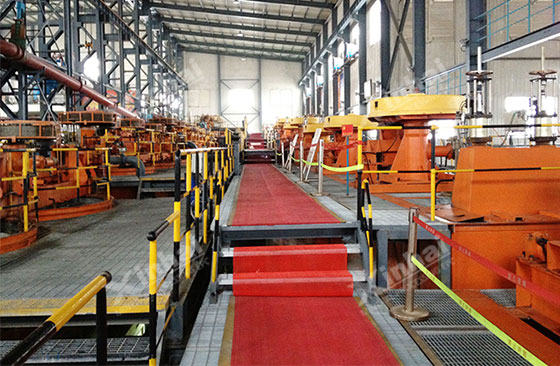 Yunnan 1000tpd copper flotation project