On February 24, Rushan Municipal Committee Zhou Bing, Mayor Gong Ben and more than 60 members visited Xinhai Mining with accompany of Yantai Fushan District vice Secretary & District Mayor Li Jintao. The Chairman of Xinhai Mining Zhang Yunlong, Admin Director Han Qingwang expressed warm reception and made work report.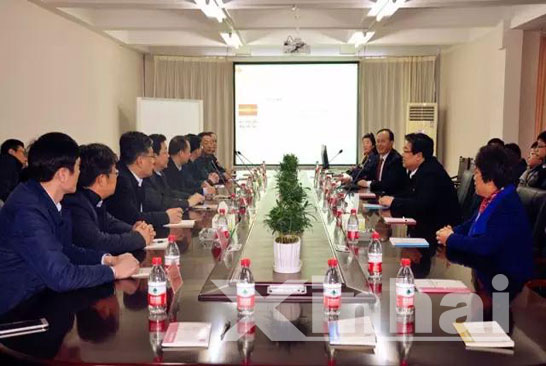 Rushan investigation group listened to the work report of Chairman Zhang Yunlong.
During the meeting, chairman Zhang Yunlong briefly introduced Xinhai achievements in servitization and Internet transformation from "manufacturing servitization", "marketing interconnection", "market internationalization" and "development innovation" four aspects:
Manufacturing Servitization. Xinhai made a transformation in manufacturing enterprise service by referring on the development experience of Europe and the United States high-end manufacturing enterprises, expanded the main business from "mining equipment manufacturing" to "mineral processing EPC" that combines design and research, complete equipment manufacturing and procurement, commissioning and delivery service together, greatly improved the development potential and profitability.
Marketing Interconnection. Since 2012, Xinhai Mining has made good use of e-commerce to expand overseas market, and gradually improved the marketing accuracy and conversion efficiency, through the analysis of millions magnitude of customer data, Xinhai explored new market space and profit model.
Market Internationalization. Xinhai responsed to "Made in China 2025" "One Belt One Road" strategic planning positively, implemented overseas strategy, developed the overseas market. By establishing overseas offices in multiple countries, Xinhai not only strengthened offline service ability, expand the sales scales, but also timely grasped the changes of international regional market, and then adjusted the enterprise strategy.
Development Innovation. As an enterprise that hold "mineral processing EPC" as the main business, Xinhai not only pay attention to the mode innovation, but also pay more attention to technology and product innovation. By improving product quality and technical, Xinhai actively develop the next generation of mineral processing technology and intelligent equipment, Xinhai Mining is focusing on its competitive advantages in the international market.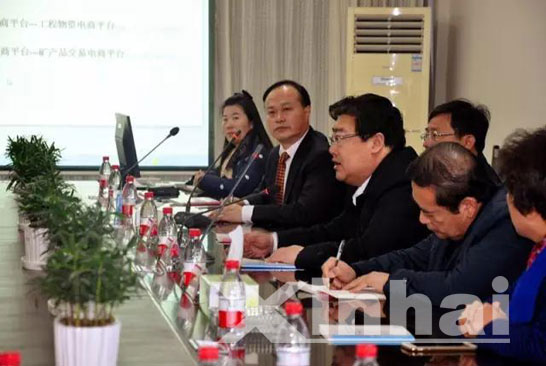 Fushan District vice Secretary & District Mayor Li Jintao indicated about "e-commerce consulting service of manufacturing industry" that proposed by Chairman Zhang Yunlong.
Rushan Municipal Committee Zhou Bing, Mayor Gong Ben and other leaders seriously listened to the report, and gave high affirmation about achievements in recent years. Speaking of e-commerce experience of Xinhai, chairman Zhang Yunlong put forward the concept of " e-commerce consulting service of manufacturing industry ", and combined the main business of Xinhai, which is explained  from the "corporate Internet marketing plan", " corporate Internet marketing content re-creation", " corporate Internet marketing platform reengineering", "Internet accurate marketing agent" four aspects.
In meeting summary stage, chairman Zhang Yunlong said that Xinhai will continue to deepen communication and cooperation with other outstanding enterprises in the future development, and provide support to brother enterprises who needs help, play a good role for the development of the regional manufacturing industry, then further drive integrate IT application with industrialization of medium-sized enterprises, not only strive to seek our development, but also make greater contributions for the regional economic development and industrial transformation.