Recently, chairman of Xinhai Zhang Yunlong reached strategic cooperation intention with Philip Barton Hess, CEO of Australian BatteryLimits Company, and signed memorandum of cooperation. Two sides will have an in-depth collaboration in mineral processing EPC, exploit the international mining market rogether, which definitely will enhance both and develop together.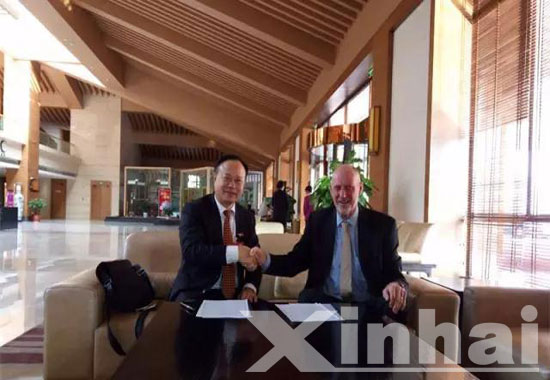 Chairman of Xinhai Zhang Yunlong (Left) signed memorandum of cooperation with with Philip Barton Hess, CEO of Australian BatteryLimits Company.
According to the agreement, both sides will adhere to the principle of "information sharing, advantage complement, technological cooperation", provide professional mining technology consulting and excellent mineral processing equipment for international mining enterprises in Australia, southeast Asia, Latin America, Africa and other countries, create mineral processing EPC with international competitiveness together.
Tips
BatteryLimits is a renowned company who provides mining consulting design and project management in Australia, its main business is providing new project in Australian mineral company development with technical consultation, beneficiation process test, process design, economic and technical feasibility study, engineering design and project management, etc. It also involves the projects of Australian mineral company in other countries.
Chairman of Xinhai Zhang Yunlong said, cooperate with BatteryLimits Company plaed an important role in further expanding overseas mining market and realizing the optimum development in EPC.
On the one hand, in the process of cooperation, Xinhai will actively make use of market and industry resources that BatteryLimits Company accumulated over the years. Replying on flexible structures and excellent mineral processing equipment, Xinhai widely develop mineral processing EPC projects in Australia and other international market area, which will help Xinhai to develop expand broader international market, improve its international influence.
On the other hand, as for Xinhai, this cooperation is also regarded as a chance to "learn" from the international first-class enterprises. As is known to all, as the top mining country in the world, Australia processed the most influential mining enterprises in mining exploration, mineral processing technology and project operating. Through the cooperation with BatteryLimits Company, Xinhai will have the chance to absorb more advanced experience in mineral processing technology, project management, consulting services and so on, which provide the perfect opportunity to speed up internationalization and enhance the overall competitiveness.
Xinhai became partner with BatteryLimits Company successfully, which is closely related to our superior mineral processing EPC ability and growing influence in overseas markets.
In recent years, with the development of overseas strategy, Xinhai has successfully completed a variety of mineral EPC projects in Africa, South America, and central Asia. Relying on our reliable EPC project execution ability, efficient project management and compliance with international standard design and construction level, Xinhai won the trust of many customers, and the brand awareness is growing in the overseas mining industry.
At the same time, Xinhai also studied and improved in mineral process, mines design, mineral equipment, and made a series of valuable achievements in technology research and innovation. In April 2016, Chairman Zhang Yunlong became AusIMM academician, which is significant for Xinhai Mining. Signing authority of international mining technology public report won Xinhai over key strategic development opportunities.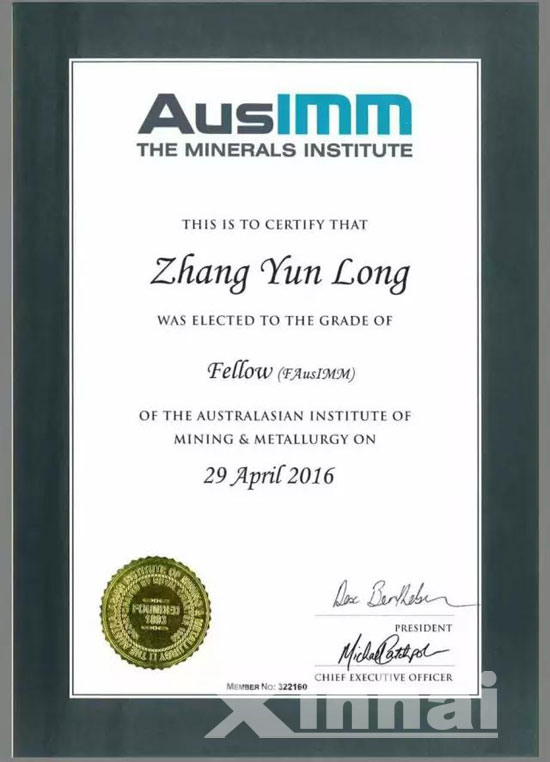 Chairman of Xinhai Zhang Yunlong was awarded AusIMM academician (Fellow) certificate. 
In the future, Xinhai will continue to promote our development, further optimize and improve our service. Relying on the strategic partnership with BatteryLimits Company, Xinhai will provide more professional and excellent mineral processing EPC service for customes from Australia and other international markets.