Recently, Xinhai was identified as "Provincial IPR Demonstration Enterprise", this is highly appreciate from Shandong Intellectual Property Office for outstanding achievements of Xinhai in the creation, application, protection and management of intellectual property.
Since established in 1997, Xinhai has considered technological innovation as the core driving force of enterprise development, attached great importance to technology development and intellectual property protection. In nearly 20 years of development and accumulation, Xinhai has explored a set of effective mechanism in intellectual property creation, application, protection and management, and also established the perfect intellectual property management system.
With the guidance and help of this system, Xinhai not only created important technology research and development and innovation, but also applied these results to products and services promotion, realized fast and stable transformation of technical achievements, effectively enhanced their competitiveness in the international market.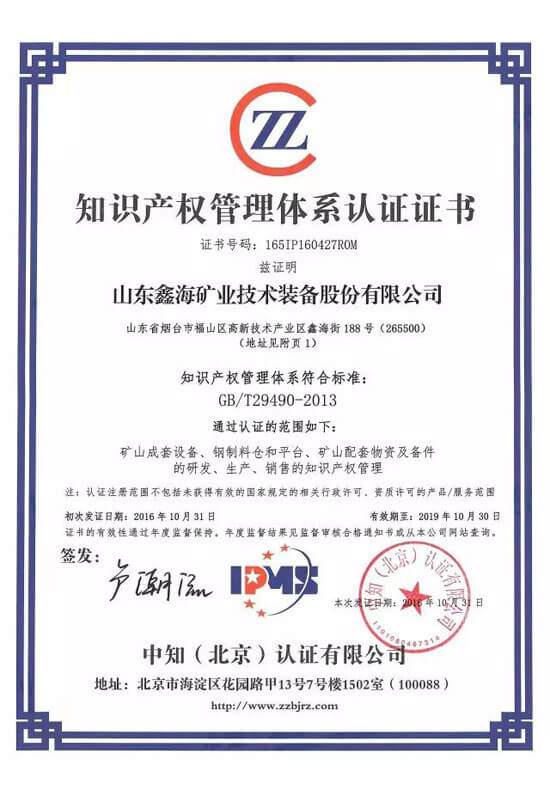 Xinhai GB/T29490-2013 Intellectual Property Management Certification System Certification
The achievements of xinhai were closely related to company's business strategy. As a "mineral processing EPC service" enterprise, Xinhai knew that the premise of getting a place in the international market was possess solid technology foundation, continuous and stable technology innovation would be about the survival and development of enterprise. Because of this, Xinhai considered the innovation, application, protection and management of intellectual property as an important part of the core competence of enterprise.
In nearly 20 years of development, Xinhai implemented this idea, combined with domestic and foreign mine owner's requirements and feedback, to craft, continuously researched and improved mineral process, plant design, mineral processing equipment and other important business part, and achieved a series of valuable technology research and innovations, which not only solved the practical problems, created economic benefit, but also increased our influence in the international market. At present, Xinhai has applied 74 patents and 34 valid patents, including 23 utility patents and 1 trademark.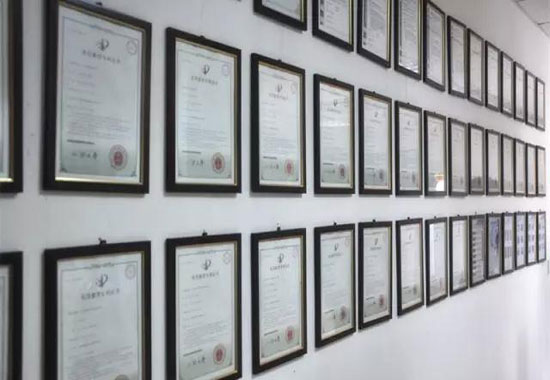 Xinhai Patents Wall
In the future, Xinhai will continue to focus on technological innovation and research, solve more practical problems for mine owners at home and abroad through technology upgrading. At the same time, we will continue to improve the intellectual property management system, besides innovation and application, we will strengthen the investment in intellectual property protection, safeguard our legitimate rights and interests at home and abroad.
At the same time, Xinhai will also actively response to the calling of Shandong Intellectual Property Office, play the leading role as a demonstration enterprise. Under the guidance and support of provinces and cities government and related departments, we will contribute to promote the in-depth development of the region's enterprise intellectual property work, and contribute our share for "building powerful province of intellectual property, implement innovation-driven development " strategy that put forward by Shangdong Patent Office.