In the past Laba Festival, Xinhai installation and commissioning team were on the front line of Indonesian gold project.
Indonesia 100tpd gold project was a small gold processing plant that Xinhai undertook in 2017, which included mineral processing experiment, mine design, equipment manufacturing, packaging & shipping, and installation & commissioning, etc.
In an early mineral processing engineering, Xinhai professional team took all aspects of engineering into consideration by combining with the actual situation of mine plant. For example, Xinhai design engineer combined the current construction with future planning and construction of new plant location in the configuration design; power engineer uniformly planned transformer substation and switching room In the general layout; Civil design engineer adopted structural steel design in ore storage bin, platform (includes pillar and beam), equipment foundation and pool as much as possible; Tailings processing engineer solved the problem of same tailings pond in current and future mineral processing plant.
The project adopted all-slime cyanidation process, including washing, crushing, grinding, classifying, separation, desorption electrolysis, water supply, tailings dewatering and smelting. The vibrating screen was used for washing part, the washed ore is sent to the crushing system. Crushing part adopted two-stage opening crushing process, the final crushing product was -15mm. The crushed product was sent to ball mill for grinding, grinding part used a stage closed-circuit grinding & classification process. After classified by trash screen, the undersize product was sent to the thickener, then sent to leaching operation through underflow pump. After a series of leaching, adsorption, gold-loaded carbon was obtained. What's more, gold mud was obtained by desorption electrolysis, then gold mud was smelted to get alloy gold. Leaching tailings were dehydrated by press filter, and dry tailings were transported to the tailings pond.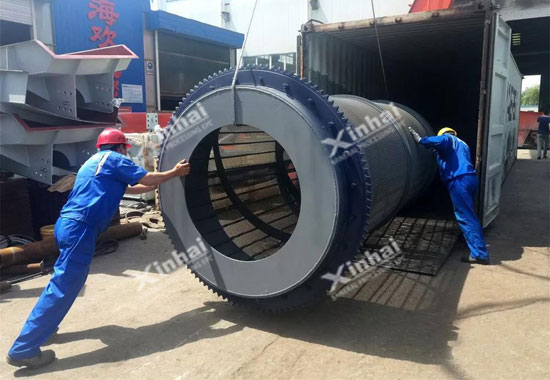 Rigorous and responsible attitude made the project have a good start, and the whole work was on as scheduled. In fact, there was a strict limit on exporting in Indonesia, which brought many difficulties to equipment exporting. Therefore, Xinhai logistics department and commerce department actively cooperated with freight agents in the process of equipment exporting, which guaranteed all goods to arrive. Finally, the rigorous and responsible attitude of Xinhai people received the affirmation and praise from customers.
At present, the project is in the stage of installation and commissioning. Xinhai installation team has arrived at the project site and started the installation and commissioning work. According to the customer feedback, the installation work is proceeding smoothly. With the principle of "efficiency, focus, preciseness", Xinhai people proved our service idea—"What you need is what we can do". Xinhai greeted the arrival of 2018 Spring Festival with perspiration.