A group of Xinhai staffs have once again embarked on the road to a foreign country when the atmosphere of the New Year has not dissipated. They are Xinhai's overseas staff. As overseas staffs who stay abroad for many years, they have to not only adapt to a variety of unfamiliar environments, unique customs, but also overcome the growing feelings of homesick during the festivals.
At present, Xinhai Mining Company has overseas offices in multiple countries. Each office is equipped with special overseas staff and a special docking department at domestic to handle related business. It can be said that every overseas EPC+M+O mineral processing plant project is inseparable from the sweat and effort of a group of Xinhai people, among which the overseas staff are most special.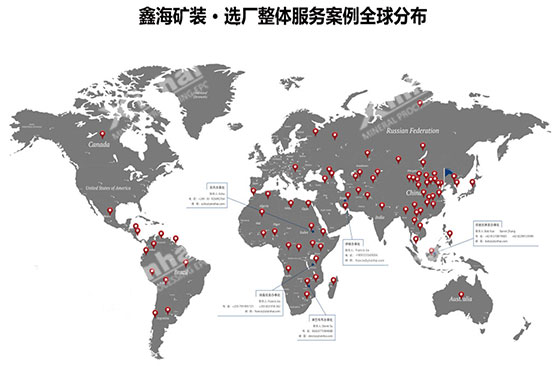 (Distribution Map of Xinhai Mining Company's Overseas Offices and Cases)
Use the table of contents below to navigate through the guide:
01

Hard Reality Requires Many Skills

As new comers, overseas staffs must first adapt to the local climate as soon as possible. The climate of most of the countries in which Xinhai Mining Company's Overseas Offices are located is greatly different from that of domestic. Among them, the climatic conditions of the Sudan office are particularly arduous. Located near the Tropic of Cancer, Sudan is a tropical region with an average annual temperature of over 30 degrees and a temperature of 50 degrees at the hottest time. The second generation of overseas Xinhai staff in Sudan was a handsome guy with white complexion before going there. After one year in Sudan, he was obviously tanned, and even repeatedly took by local customers for specially recruited local personnel.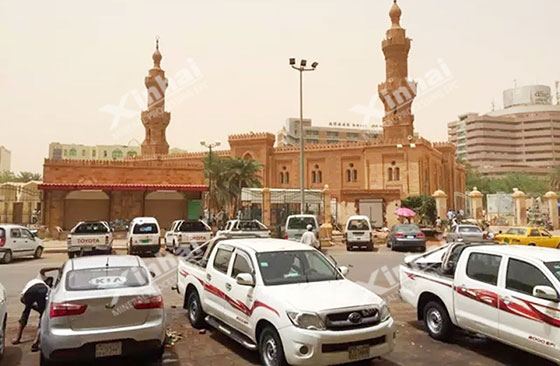 (Khartoum, the capital of Sudan)
Although the economic situation of Sudan is relatively backward and sometimes the supply of materials is insufficient, the overseas Xinhai staff in Sudan manages leading a good life by growing their skills themselves. From get the screwdriver to assemble the computer, to set up the pot and learn to steam steamed buns, living abroad makes Xinhai staff who can't cook before to become an excellent chef now.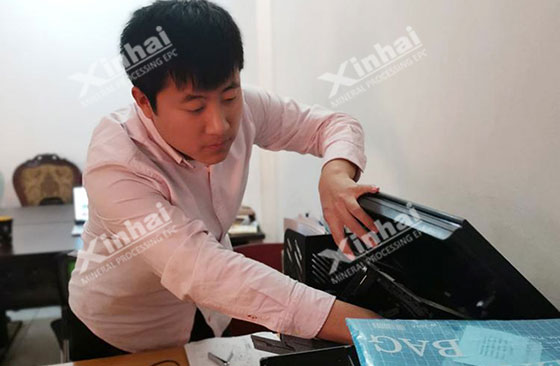 (Richard, XinHai's overseas staff in Sudan, was assembling a computer)
Various uncertainties in daily life can be overcome, but there may be some uncontrollable factors in life abroad. In 2018, the local political situation in Zimbabwe was turbulent, and there were more than ten riots big and small. However, under the premise of ensuring their own safety, Xinhai's overseas personnel continued to travel back and forth to each mineral processing plant and insisted on being responsible for each customer and providing customers with a more comprehensive mineral processing EPC+M+O service and mineral processing equipment.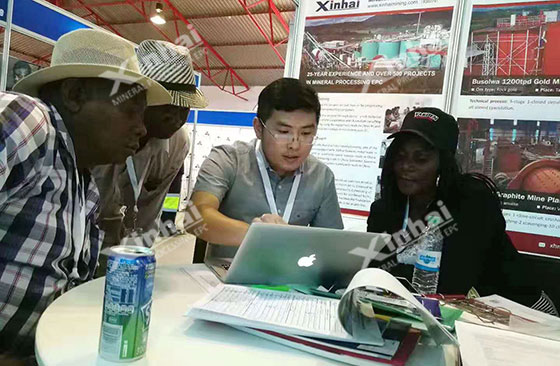 (Devin, Xinhai's overseas staff in Zimbabwe, was introducing Xinhai mineral processing EPC+M+O service)
At the 2019 annual meeting, Devin, the head of Xinhai Zimbabwe office, was invited to speak on the stage and mentioned a thrilling experience. After meeting with Zimbabwean customer about a project, a team of overseas staffs of Xinhai planned to take the bus to the airport. When they arrived at the parking lot and got ready to get off, suddenly a group of people who waved all kinds of knives and sticks rushed over. They quickly turned around the car and got back to the customer. The customer arranged some mercenaries to escort them, so they can arrive at the airport safely. Talking about the riot, Devin said in an understatement that this is only one of them. Despite this, in 2018, there are three mineral processing EPC+M+O projects built by Devin in Zimbabwe, and another two projects are under negotiation.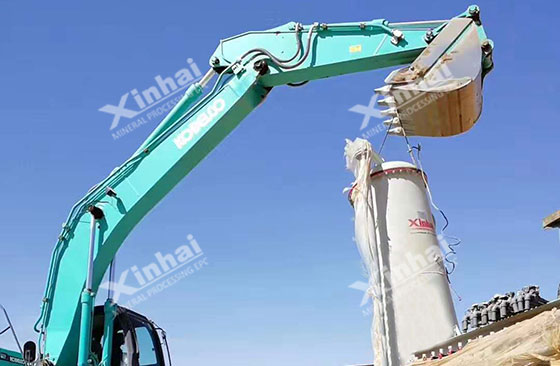 (Xinhai installation and commissioning team was installing zinc powder replacement system for a mineral processing plant in Sudan)
02

The Bony Reality Can't Stop the Plump Ideal

Most of Xinhai's overseas staffs are young person born after 1990. Living abroad is so hard, but why are Xinhai's young staffs so positive in their career overseas?

Born in 1994, Richard, the second-generation staff of Xinhai's office in Sudan, took the initiative to apply abroad in March 2018. When talking about the experience of the year abroad, he said that he had worried about the environment in Sudan before leaving for the office. However, after arriving at the office, he found that the dormitory environment, office conditions and living conditions are not much different from the domestic ones, and the company will regularly purchase goods from domestic, so there is no problem in terms of material supply.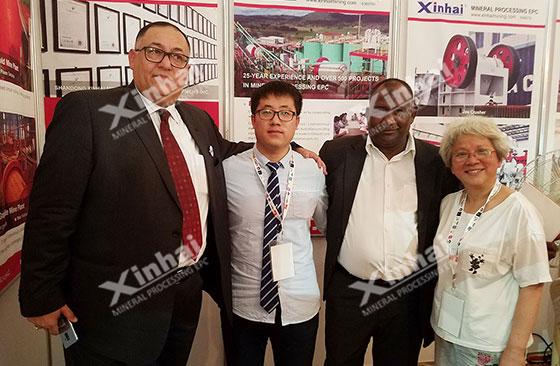 (Xinhai Office in Sudan participated in the Sudan International Mining Exhibition)
"If I didn't choose to stay abroad, I can't have such a rich experience and appreciate different scenery. Staying abroad, I can better understand customer needs and follow up customer projects in real time. At the same time, working in the overseas office can help me to explore more development possibilities in the local area and seek more opportunities for Xinhai. In addition, I can also make customers better understand Xinhai and make Xinhai's service concept and brand image deeply rooted in the hearts of the local people." --- Richard
Born in 1992, Devin, the second-generation staff of Xinhai's Zimbabwe office, took the initiative to apply going abroad in September 2017. The turbulent Zimbabwe did cause a lot of trouble for him, but more than a year of experience abroad allowed him to see the necessity for overseas staffs. The perfect combination of the customized EPC+M+O service provided by Xinhai and the current development status of the African mining industry also made him see the great potential of Xinhai in the African mining market.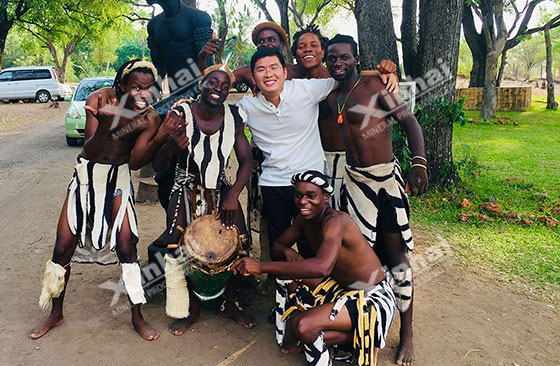 (The group photo of Xinhai's overseas staff Devin and the locals in Zimbabwe)
"When a customer smiled at me and gave a thumbs up and praised 'Xinhai, the best', I felt that all my efforts were worthwhile. Now, taking the chance of The Belt and Road, and accompanied by summon of Made in China, even if life abroad is not easy, we Xinhai people are still full of confidence!" --- Devin
As President Xi Jinping said in his 2019 New Year greetings: "We are running at full speed towards the realization of our dreams." 2019 is also a year in which Xinhai would achieve comprehensive breakthroughs. To realize the vision of a hundred years of Xinhai and to create a global mineral processing brand, it is inseparable from every Xinhai overseas staff who is working hard.