Now, the development of gold extraction technology has been relatively mature and complete. Generally speaking, gold extraction processes are mainly gold flotation and gold cyanidation, and gold cyanidation can be divided into carbon pulp, carbon leaching, heap leaching and other processes. Without going into details here, this paper starts with the comparison between gold flotation and gold cyanidation processes.
Use the table of contents below to navigate through the guide:
01

Gold ore flotation process

Flotation process is a common metal ore processing process, and it is also applicable to gold ore. It is mainly applicable to the gold-bearing quartz vein ore with fine gold particles and high floatability, the multi-metal gold-bearing sulfide ore and carbon-bearing ore. The gold flotation process can be divided into a single flotation process, heavy - floating combined separation process, is relatively simple gold extraction process. The recovery of gold from flotation is considerable, the recovery of sulfide ore can reach 90%, and a few can even reach 95%~97%. The recovery rate of oxidized ore can reach about 75%, some even can reach 80%~85%.
02

Gold ore cyanidation process

Gold Cyanidation process is the main modern method of gold extraction, which has strong adaptability to gold deposits. Its main process including cyanide leaching, adsorption from cyanide solution, get the finished product and so on several processes, can be roughly divided into two kinds, continuous countercurrent washing with a thickener, and use of zinc dust replacement precipitation recycling gold so-called conventional cyanidation leaching gold process, and do not need to filter washing, active carbon adsorption of recovery of gold from cyanide pulp directly without filtering cyaniding carbon slurry process, respectively, in the form of zinc dust replacement and activated carbon adsorption to extract gold from cyanide liquid to come out. The process is complicated, but the recovery rate of CIP and CIL is relatively high. The recovery rate of CIP and CIL can be stable at 80% or even above 90%.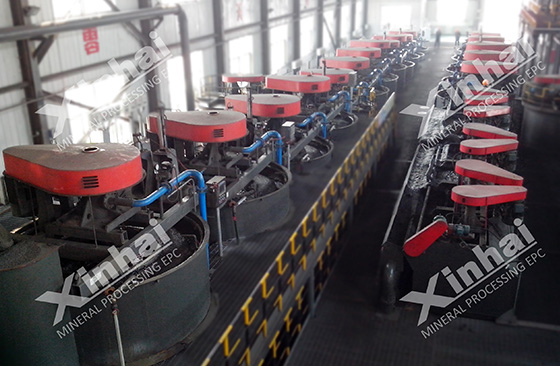 Gold flotation is not only simple technology, but infrastructure and equipment requirements are also relatively simple, a single flotation process equipment and other metal ore flotation equipment is basically not much different. On the contrary, the complex gold cyanidation process determines the complex and strict equipment requirements and infrastructure investment. Therefore, the cost of gold cyanidation is much higher than that by gold flotation.
Flotation and cyanidation are both chemical processing methods, therefore, the process of mineral processing is naturally indispensable agents. Foaming agent, inhibitor, activator, collector and so on should be used in gold flotation. The reagent used in the gold cyanidation process is relatively simple and the ore is leached with the cyanidation agent. No matter which process these two technologies are, substances that will damage the environment will be produced in the process. At present, the cyanide-free environmental gold extract has been developed as a substitute for traditional cyanidation agents to reduce the damage to the environment.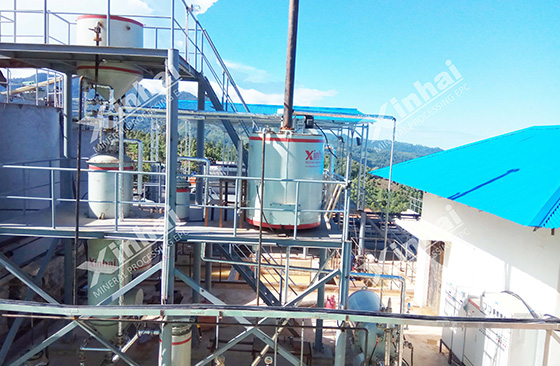 03

Comparison between gold ore flotation and cyanidation

Let's take a look at the application of these two gold extraction techniques from practical cases. Cambodia a gold flotation project, the mine ore processing is given priority to with natural gold, but throughout arsenopyrite fissure, pyrrhotite and cleft in the semiconductor and processing difficulty are big, the technical team, according to the mining characteristics, closely combined with the actual, for its design is given priority to with gold flotation production line, undressed ore for mining large fluctuations, process operation to solve problems such as unstable. The advantages and disadvantages of gold flotation and gold cyanidation are summarized as follows:
| | | |
| --- | --- | --- |
| Gold extaction | Gold flotation | Gold cyanidation |
| Suitable ores | Fine gold particles, with floatable sulfide gold quartz vein ore, multi-metal gold sulfide ore and carbon ore. | It has strong adaptability to gold ore, such as ore containing natural adsorbents such as clay, graphite, bituminous shale and iron oxide, and complex gold ores such as arsenic-gold ore. |
| Recovery rate | Recovery of sulfide ore and oxidized ore can reach 90% and 75% respectively. | Heap leaching method can reach 65%~80%, CIP and CIL can reach 80% |
| Advantages | Simple process, low investment in infrastructure equipment, can deal with the distribution of refractory ore | The recovery rate is high, the reagents have environmental substitutes, and the damage to the environment can be reduced |
| Disadvantages | The use of agents can have an impact on the environment | High investment in infrastructure equipment, complex process |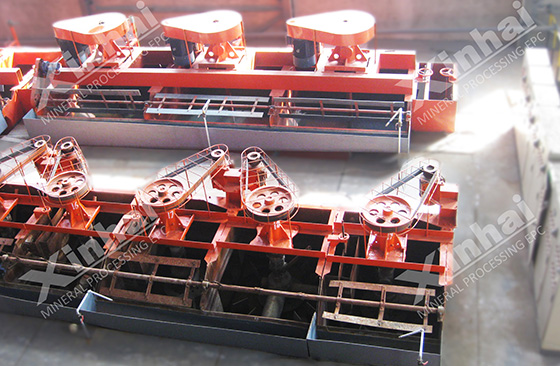 From the examples and comparison, we can conclude that the gold extraction technology is not applicable to all mines, no matter the gold flotation or gold cyanidation process. In the process of selecting the technology, the ore dressing test should be carried out on the mine first. According to the experimental results and the actual situation, the most suitable gold extraction method is the best.