As a precious metal ore, the improvement of recovery rate and utilization rate of gold ore has attracted more and more attention. In actual production, there are many methods for gold ore beneficiation, including gravity separation, flotation, heap leaching, cyanidation, etc. Depending on the characteristics of the ore and production requirements, the concentrator will choose the appropriate technology to recover gold. This article mainly provides you with gravity separation technology, gold mine gravity separation method, gravity separation equipment and how to choose the appropriate gold mining equipment technology according to the ore particle size.
Use the table of contents below to navigate through the guide:
01

Ore gravity separation technology


Gravity separation is a method of sorting ore particles based on differences in density and size. The gravity separation effect is not only related to the density and particle size of the ore particles, but also related to the density of the medium.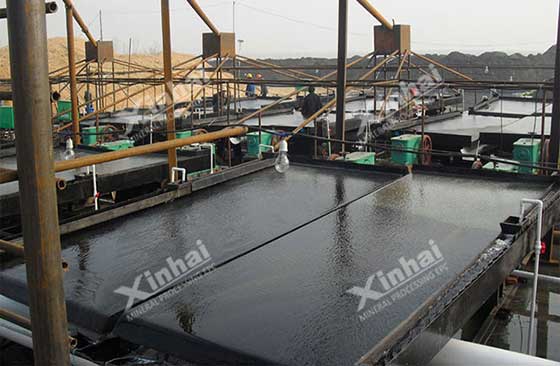 (Shaker)
During the gravity separation process, the mineral particles are mainly carried out in a flowing medium, such as water. The flow modes of the medium include continuous upflow, intermittent upward flow, up-down alternating flow, etc. Each gravity separation method does not rely on the action of only one medium flow, but requires the action of several medium flows and other mechanical forces. of mutual cooperation.
The gravity separation process can also occur in centrifugal force fields. The effect of centrifugal force can enhance the beneficiation process. Centrifugal concentrators can be used to recover particulate matter. In addition, centrifugal force can also improve the performance of hydrocyclones and heavy media mineral processing equipment.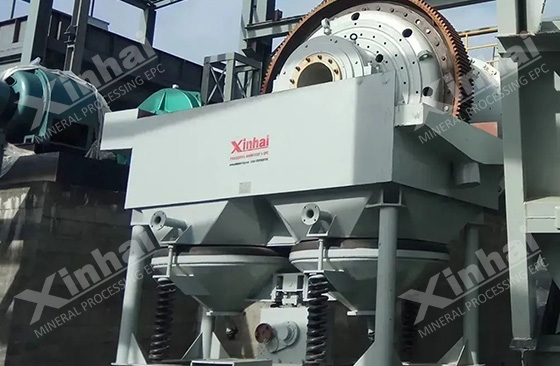 (Jig)
02

Gold ore gravity separation technology

Since the density of gold element is 19.3g/cm³, while the density of other gangue mineral particles is generally 2.6g/cm³. Therefore, they can be separated using gravity separation technology.

Gravity separation technology can be used as the basic method for placer gold beneficiation. Because the density of gold particles is generally greater than that of other gangue minerals, gold always settles out of various media flows during different gravity separation processes. Therefore, in the placer gold beneficiation process, jig beneficiation, shaking table beneficiation, spiral concentrator, etc. can be used to recover gold.

Gravity separation technology is also one of the effective mineral processing methods for vein gold ore. For gold ores with relatively coarse gold particles, when the gold concentrate is fully dissociated from other gangue ores and processed using chute or shaking table equipment, the gold recovery rate can reach more than 70%.

When the gravity separation method is combined with flotation, mercury amalgamation, cyanidation and other methods, it can not only process various types of gold-bearing ores but also increase the gold recovery rate. When processing polymetallic ores, flotation technology is generally used. However, when the ore contains coarse gold, the loss of gold can be effectively avoided by using gravity separation equipment such as jigging before flotation.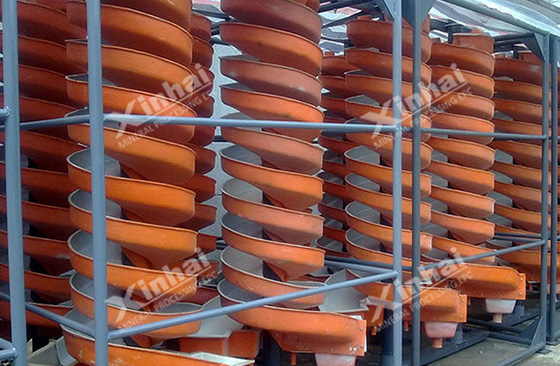 (spiral chute)
03

Gold ore gravity separation equipment

Commonly used gold ore gravity separation equipment mainly includes: spiral chute, shaker, jig, centrifugal concentrator, etc. Different gravity separation equipment has range requirements for the granularity it processes. If the granularity range is exceeded, the gravity separation effect will be unsatisfactory. Therefore, gold mines should be classified before gravity separation.

Materials larger than 2mm are classified by screening method. Before the placer gold ore enters the chute for beneficiation, it needs to be screened by a vibrating screen. When the grinding products of vein gold mines are sorted by a jig, a vibrating screen can also be used for classification to screen out the 3-5mm ore particles and send them to the jig for sorting, while the ore particles larger than 3-5mm can be sorted. The ore particles are returned to the grinding equipment for regrinding.

When classifying mineral particles smaller than 2mm, a hydraulic classifier can be used, which can generally be divided into ascending flow hydraulic classifiers, cone classifiers, hydrocyclones and mechanical classifiers.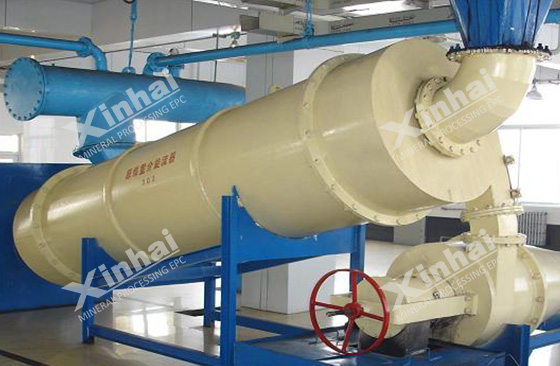 (Heavy media cyclone)
04

Gold ore gravity separation method selection

When recovering coarse-grained gold particles in ores, equipment such as jigs, hydraulic traps, and centrifugal concentrators can be used to separate coarse-grained and medium-grained gold particles in advance in several procedures at the process opening.

If medium-sized equiaxed crystal-shaped gold particles are recovered, equipment such as spiral concentrators, cone concentrators, jigs, shakers, and spiral chutes can be used to effectively recover them. For flat medium gold particles, spiral concentrator, cone concentrator and jig can be used. The shaker can effectively recover medium particles and flattened gold particles when the loading amount is moderate.

For recovering fine particles with particle size less than 0.07mm, the recovery effect of jig, spiral concentrator and cone concentrator is not ideal. Chute and multi-layer spiral chute can be used for recovery, but they are suitable for concentrators with small processing capacity. .

The above content is a brief introduction to gravity separation technology, gold mine gravity separation technology, gravity separation equipment and gravity separation method selection. According to the nature of the ore, choosing the appropriate gold ore gravity separation technology can improve the utilization rate of gold ore resources and the recovery rate and quality of the concentrate. Xinhai Mining recommends conducting mineral processing test to determine the selectivity of ores. The test results can provide scientific basis for mineral processing process design and equipment selection, further reduce production costs and improve economic benefits.