There are many types of Xinhai ball mill with patents, such as energy-saving ball mill, rod mill, autogenous mill, overflow type ball mill, cylinder energy-saving overflow ball mill, vertical ball mill.
The production model of Xinhai ball mill is flow line production. Xinhai possesses large vertical lathe (7.5 meters) and large rolling gear, the cylinder of ball mill uses automatic flame cutting loading and automatic welding mode; Large hydraulic automatic rolling machine is used for rolling; The surface of metal parts must be handled by sandblasting, which can remove the corrosion and oil contamination in the surface. After the sandblasting process, the equipment is sent to paint locker for surface spray paint. Xinhai often adopts ship paint and makes ZnO test before painting, which can improve the adhesive ability and service life of paint on the surface of equipment.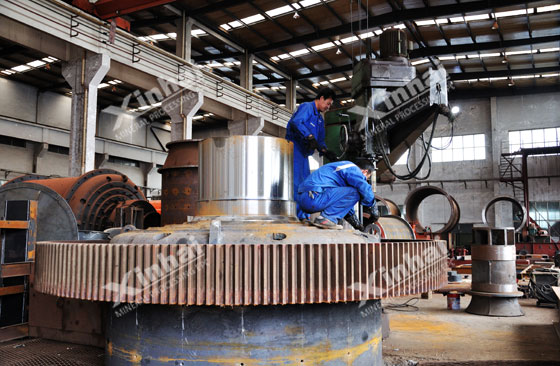 In addition, Xinhai also makes a significant improvement on ball mill bearing. Most ball mill manufacturers are using the sliding bearing, but the energy consumption is too high. So, Xinhai adopts large double row self-aligning roller bearing, which greatly reduces the friction, and saves 20 ~ 30% energy. For the small ball mill below 2.1 meters, Xinhai adopts the whole mill housing, which is convenient for civil construction and equipment installation.
What's more, Xinhai ball mill can also match with the following devices according to the needs of customers. First, oil mist lubrication device, it ensures the lubrication of different sizes of gears; second, lifting device, it is easy to maintain; third, Xinhai also adopts a set of the slow-speed transmission device, which is easy to start one after the other and reduce the impact on the power grid. Customers can choose the appropriate components and parts, such as ABB and Siemens motor, SEW reducer, SKF bearing, Schneider.
As a new listed company (stock code: 836709), Xinhai not only obtained the ISO90012008 international quality system certification, CE certification, but also won overseas contracting qualification approved by China's Ministry of Commerce (Xinahi mineral processing EPC), CNAS certification, etc. At present, Xinhai has completed more than 500 mineral processing EPC projects in the world.