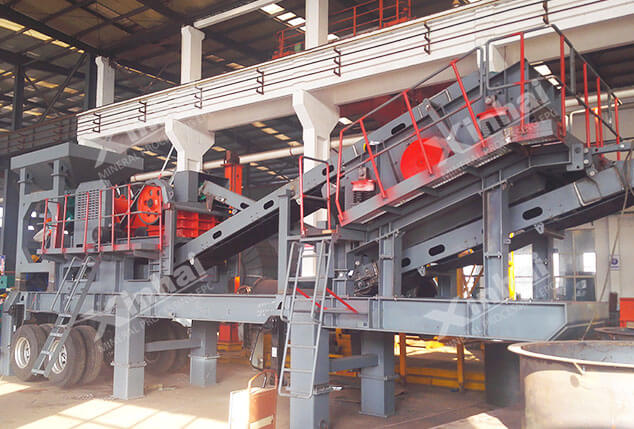 PRODUCT
Mobile Crushing and Screening Equipment
[Introduction]: Mobile crushing and screening equipment has the high flexibility upon transportation but low cost upon comprehensive use.
[Capacity]: 100-2000t/d
[Improvement]: Xinhai mobile crushing and screening equipment consists of three types: semi-mobile, tire movable type mobile and crawler type mobile crushing and screening equipment. The machines come with the power source and are highly adaptable. It also has the characteristics of a low body and easy to transport and handling.
Advantages
01

Modular design of the main engine, structural parts and chassis;

02

Any combination according to the customers demand;

03

Flexible, and convenient transportation;

04

International standards of hauling department design, and butting with semitrailer tractor applicable;

05

International standards chassis, tire, brake, lighting system, able to run on normal roads;

06

Less installation period, saving construction costs and land area.
Product Structure
Mobile crushing and screening equipment is mainly for material processing in need of relocating work, like dressing, metallurgy, chemical engineering, building materials, hydroelectric, etc., especially mobile stone processing in expressway, railway, hydropower engineering, etc. According to different types of raw materials, scales and product material requirement, clients could adopt a variety of configuration form.
Technical Parameters
If you want to know the product price, feed particle size, production capacity, size, etc., please contact us online.
Related Products
Leave Your Needs
Please write your message here! We will send detailed technical info and quotation to you as soon as possible!