Non-metal mineral is the indispensable resources for the survival and development of modern human society. In recent years, non-metal mineral has become the largest raw mineral materials of annual consumption per capita in the world, and it was widely used in the high-tech industry, with a rapid growth.
However, the expansion of market demand also put forward higher requirements for the development and utilization of non-metal mineral resources. In recent years, Xinhai has achieved remarkable results by increasing the investment in non-metal processing equipment and technology.
Here are some common examples of non-metal processing projects. Let's learn the construction of Xinhai non-metal processing plant.
Chengde Longhua 1000t/d Fluorite Dressing Plant Design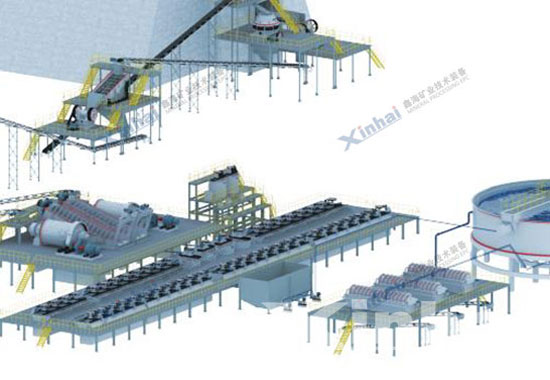 The ore grade CaF2 was 30.80 %. After complete investigation argument, Xinhai communicated with the mine owner and improved the mineral process. Xinhai decided to adopt "stage grinding, middling order returns" process instead of "coarse grinding middling then concentrated returning" process.
The improvement of this process improved the operability and controllability of this process. At the same time, In consideration of local climate and the feature of reagents used in process, Xinhai appropriately increased the heating facilities of the pulp in winter, ensuring that the ideal mineral processing index in the winter.
As a whole, taking "energy saving and consumption reduction, high efficient recycling" as the priciple, Xinhai selected high efficient and energy-saving equipment which had simple operation, convenient maintenance, and provided suitable process which had reliable technology. Under the premise of reasonable design and high quality construction, Xinhai saved construction investment as much as possible, including reducing land occupation, improving the utilization rate of mineral resources, cutting down the consumption of water and power resources, which laid a good foundation for the plant operation.
Vietnam Kra 800tpd Graphite Ore Dressing Plant Project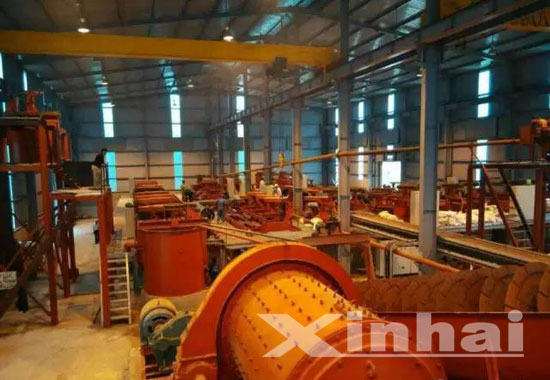 In view of the characteristics of graphite, Xinhai provided 800tpd graphite ore dressing service on the basis of experimental research.
Combined with the ore characteristics, Xinhai provided the crushing system which consisted of jaw crusher and impact crusher. In order to protect the graphite flake, Xinhai adopted "rough grinding and discarding tailings, multi-stage grinding and multi-stage processing, middling partial concentrated returning" process, which obtained good effect and high quality graphite concentrates.
Relying on advanced design concept, Xinhai matched process and equipment reasonably, which laid a solid foundation for the development and utilization of graphite resources and the overall energy saving and consumption reduction.
Shandong Yitao 1500t/d Feldspar Dressing Plant Project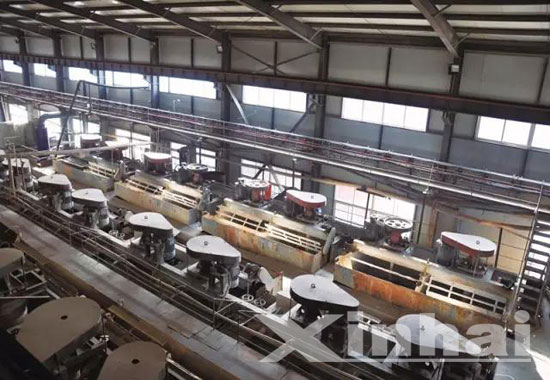 The feldspar capacity of this project was 1500 t/d. Xinhai provided the overall mineral processing service for this project. The main products of this company were dry and wet high potassium feldspar and finishing superfine potassium feldspar powder.
The company was one of the best feldspar mining comprehensive processing enterprise in domestic which had largest scale, most advanced technology and best utilization effect, the overall technology had reached the international advanced level in the same industry. The feldspar finishing technology separated Ⅱ, Ⅲ class feldspar by cleaning mineral separation step by step, making the product have pure quality, high whiteness and stable quality. So it was favored by the majority of customers.
Yitao feldspar adopted dry tailings discharging process and equipment—thickening hydrocyclone + efficient deep cone thickener + high frequency dewatering screen, which formed an unique tailings discharging system. This system had low equipment and construction investment, low equipment operating cost. It was easy to manage, and it had high cost performance. After tailings discharging, all water in the tailings discharged from the overflow water of thickener, the water can be returned to plant for recycling, which greatly saved water resource.
Xinhai has been closely integrated with mine reality, optimized mine structure, and strictly controlled the cost and construction cycle, providing customers with high quality mineral processing service. In the future, Xinhai will take efforts to provide customers with more professional, perfect and efficient mineral processing equipment and solutions.