Since its establishment in 1997, Xinhai has perfectly expressesed the innovation through over and over technology upgrading in 20 years of development, which made Xinhai quickly become the top mine crushing enterprise in global mineral processing industry.
With many years of mine crushing experience, Xinhai combined with the needs of customers and has developed new mobile crushing equipment. Compared with traditional crushing equipment, Xinhai mobile crushing and screening plant is totally improved in various concepts:
1. International chassis, tire, brake and light system:
Xinhai mobile crushing and screening plant adopts international standard design: Low chassis is beneficial to the transportation and loading of the whole mobile plant; Strong wear resistant tire ensures the plant can be transported in the general highway and mine area, which extends the service life of tire; Flexible brake system guarantees the safety of the whole mobile plant;

2. Integrative crushing and screening operation with flexible combination, strong adaptability:
Traditional crushing and screening stage usually adopt independent crushing equipment and screening equipment. In general, Xinhai adopts two and three stage crushing to crush raw ore until the appropriate ore particle, then uses screen for check screening, which not only separates the qualified ore particle size in time, but also avoids overgrinding. At the same time, the disqualified ore is returned to crusher for further crushing.
In order to simply crushing and screening process, Xinhai developes integrative mobile crushing and screening plant that meets various demands of mobile crushing and mobile screening. Xinhai mobile crushing and screening plant can be used separately or jointly according to material type and production demands, which not only strengthens the effect of crushing and screening stage, but also reduces the cost.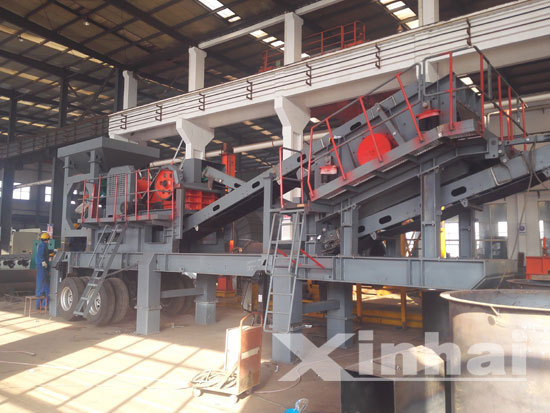 3. First-use automobile painting technology
In order to solve serious rusting problem of the body, Xinhai mobile crushing and screening plant introduces automobile painting technology for the first time, which has advantages of high hardness, gloss, adhesion and resistant to water, chemicals and abrasion etc.
4. Three different types meet different customers' demands
With the various requirements of ore prosperity, topographic feature and ore particle, Xinahi technical staff especially developes three types of mobile crushing and screening plants: semi-mobile, tire movable type and crawler type, which greatly strengthen its adaptability, improve the processing capacity and increase the production capacity.
5. Short installation time
Compared to ordinary installation of crushing and screening equipment, Xinhai mobile crushing and screening plant totally reduces 30% installation time. Besides, Xinhai installation and commissioning team comes from the first line of mineral processing and has experienced more than 500 beneficiation projects.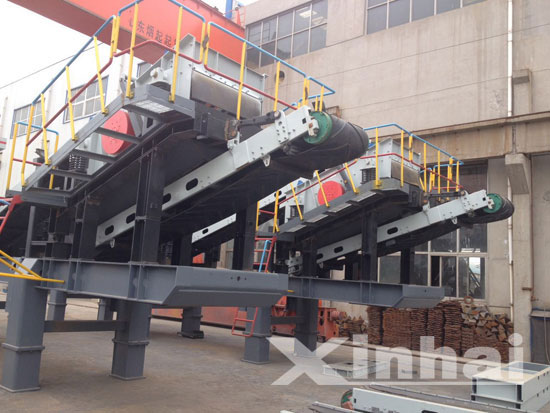 Innovation process makes classic. Xinhai mobile crushing and screening plant has applied in more than hundreds of mineral processing plants since listing, and it was appreciated by different customers. It has become the most stable, efficient and energy-saving crushing equipment that inject greater vitality into mineral processing industry.