Recently, Xinhai Sudan 300 TPD gold plant has been completed equipment installation process, Xinhai engineers who are fighting in the first line sent the wonderful site photos.
1, Project Profile
This project is located in eastern Sudan that has 300 t/D capacity, the main ore is gold ore tailings, and the grade is 4.7 g /t, the capacity per year is up to 99000 tons, the process adopted all-slime cyanidation CIP process: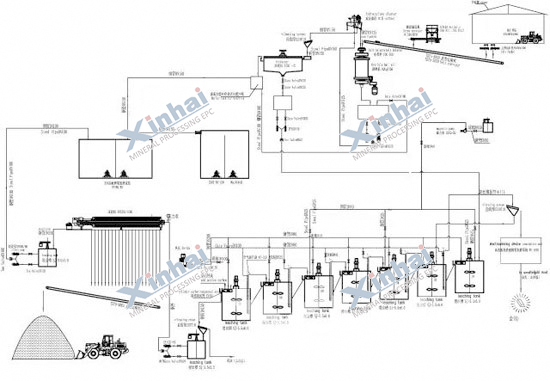 Visual relating image of equipment in Sudan 300 TPD gold plant
Incoming materials carried on the preliminary screening, eliminated the clutter and large pieces of ore, then entered into one stage closed-circuit grinding and classification. The classification adopted hydrocyclone unit, after chip removing and purification, the hydrocyclone overflow flowed automatically to the thickener, concentrated pulp entered into cyanide leaching. Gold bearing solution absorbed gold with activated carbon, then gold charcoal was sent to high temperature and high pressure desorption electrolysis system, the gold mud was sent to smelting chamber to get alloy gold, the tailings were transported to tailing heap after tailings leaching and pressure filtration dehydration.
2, Project Equipment Delivery
In order to ensure the equipment reached the plant completely, Xinhai has established the perfect packaging delivery management system: adopts various methods (waterproof coil, stretch film, pallets, wooden case) to avoid transportation damage, such as collision, wear, corrosion and so on.
Packing part: the professional package shipping team used computer simulation to assort packing after summarized the packing size, shape, weight, moisture, lifting requirements, and also considered transport, disassembly, transshipment, as well as site installation locations. According to the international long-distance ocean transportation and landed automobile transport characteristics, the packaging design form are wooden case, cartons, bags, nude packing, wrapping and packaging container.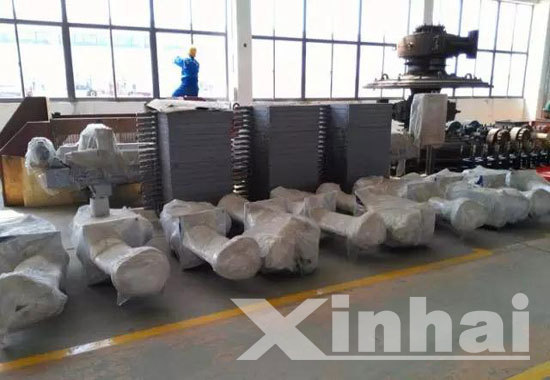 The submerged pump adopted waterproof coil packaging, which effectively avoided transportation damage, such as collision, wear, corrosion and so on.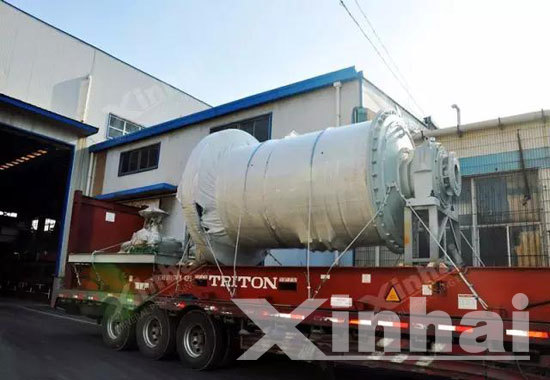 Xinhai shipping personnel used packaging material to design for MQYG2136 ball mill cylinder, prevented possible equipment problems, such as moisture, rust, oxidation, and guaranteed equipment integrity.
3, Project Site
Screening
The raw ore is processed gold tailings with fine grit that doesn't need crushing, but the raw tailings contained rags, wood, bottles and other clutters that need to be removed and can't go into production process. Adopting forklift to remove clutters or large pieces of materials before entering into screening system, and then used belt conveyor to send the materials that after screening to fine ore stock dump. Then installed two belt feeders under the fine ore stock dump, sent the ore to a belt conveyor which transported materials to ball mill for grinding.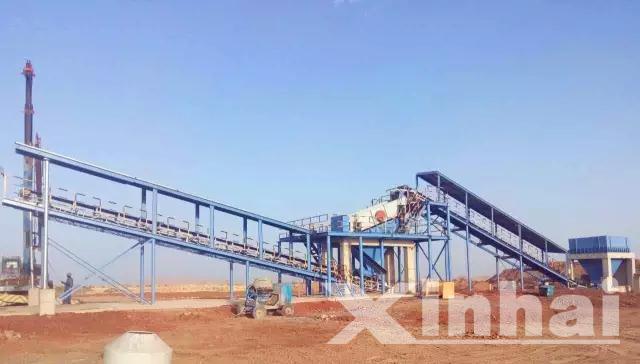 Grinding and Classification
The raw ore is gold tailings with small particle size, so Xinhai used one stage closed-circuit grinding and classification process. Belt conveyor transported the ore to the ball mill, the discharge of ball mill was sent to hydrocyclone unit for classification with slurry pump, settled sand of hydrocyclone unit returned to ball mill for re-grinding through automatic flow, the overflow entered into the next process through automatic flow.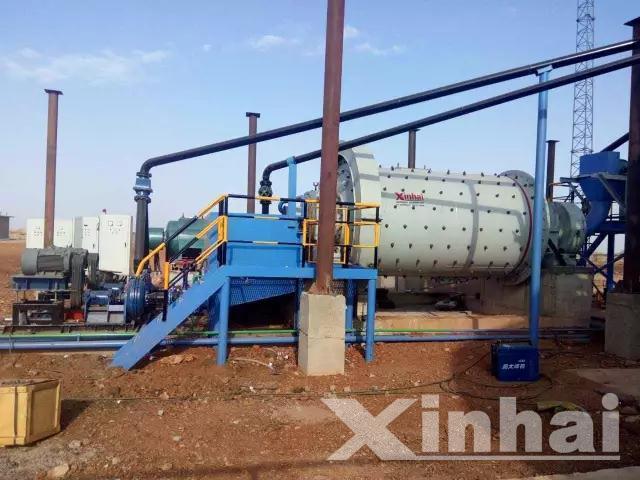 Cyaniding Extraction of Gold
Cyanide leaching adopted 7 double impeller efficient agitation leaching tanks, one of them is pre-leaching tank, six tanks were leaching tanks, activated carbon adsorbed gold, after fully adsorption, gold loaded carbon was separated from pulp and then sent to the desorption electrolysis system.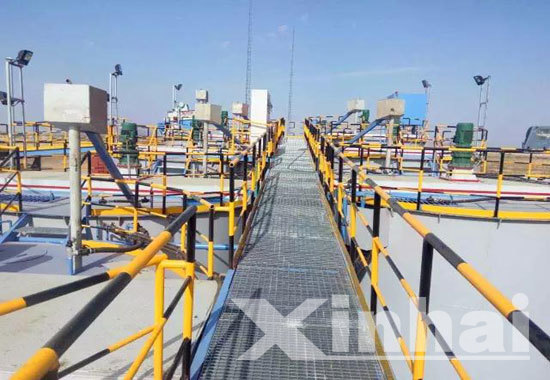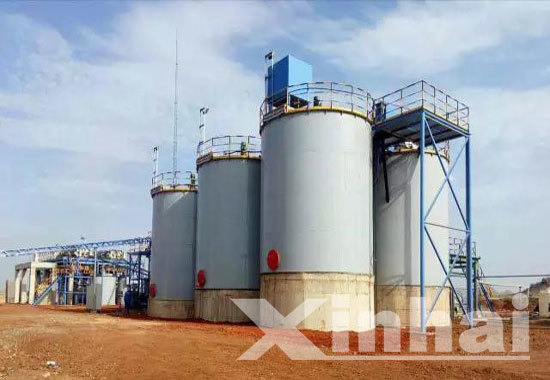 Desorption Electrolysis System
Leaching system adsorbed saturated gold loaded carbon, and then be sent to high temperature and high pressure desorption electrolysis system for gold extraction processing, the gold mud has high gold purity, and then be directly sent to high frequency smelting furnace after impurity, the final product was alloy gold.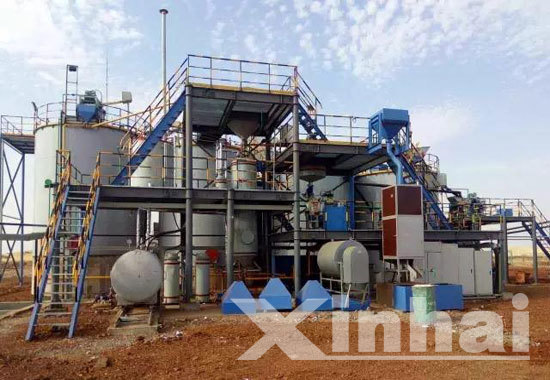 Tailings Discharge
Tailings after cyanide leaching adopted pressure filter for pressure filtration dehydration, the tailings after dehydration contained 20 ~ 25% water, which were transported to the tailings storage by automobile, the filtrate returned to production for recycling, which achieved zero discharge of production wastewater.
At present, the project has been completed basic equipment installation. In the next few months, Xinhai overseas engineering team will carry out the construction of the external workshop according to the design plan, and then proceed commissioning. At that time, we will show you the latest project progress timely.