Based on the traditional belt conveyor, Xinhai has successfully developed belt conveyor with high inclination angle and waved guard side according to user's demand. It has been widely used in mineral processing, coal, metallurgy, building materials, grain, chemical industry and electric power, etc., and has also been applied in underground mining, open-pit mining and large self-unloading ship.
Xinhai adopts corrugated sidewall and diaphragm plate in the conveyor belt, whose angle can be adjusted among 0-90 °. The structure of belt conveyor is more reasonable, and conveying efficiency is higher. Besides, it also has outstanding performance in actual operation and maintenance.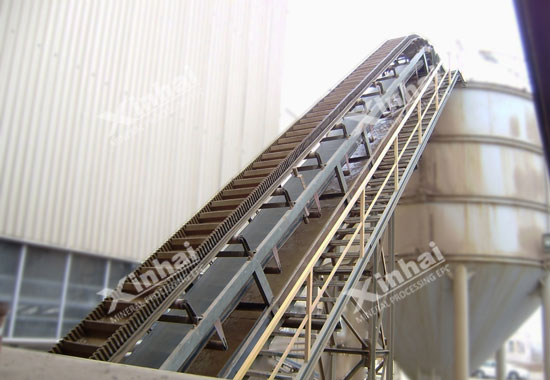 Use the table of contents below to navigate through the guide:
01
High inclination-angle
Xinhai walled belt conveyor adopts large inclination, which can transmit materials horizontally, tipsily and vertically within the scope of 0-90 ° inclination. Therefore, it not only can save area, but also greatly reduce equipment investment and construction cost, then obtain good economic benefits;
02
Conveyer belt with corrugated sidewall and diaphragm plate
Xinhai attached a retractable rubber waveform vertical "skirt" on both sides of parallel rubber conveyor belt, at the same time, Xinhai attaches diaphragm plate with a certain intensity and elasticity as the bucket, which ensures the continuous transmission of materials. What's more, its corrugates sidewall and diaphragm plate are combined by the secondary vulcanization, so it not only has good rigidity, tear resistance, but also has a certain softness and flexural endurance, which greatly extends its service life.
03
Reliable operation
Unlike buried scraper conveyor and bucket elevator, Xinhai walled belt conveyor perfectly solves the problems occurred in the above conveyors, such as chain blocked, chain scission, belt slip, bucket falling. The whole process runs smoothly with low noise.
04
Simple structure and lower energy consumption
The main components of Xinhai walled belt conveyor have in common with the ordinary belt conveyor, which is convenient for use and maintenance. In addition, this conveyor is not affected by digging resistance, internal friction and frictional resistance in running, thus the energy consumption is much lower.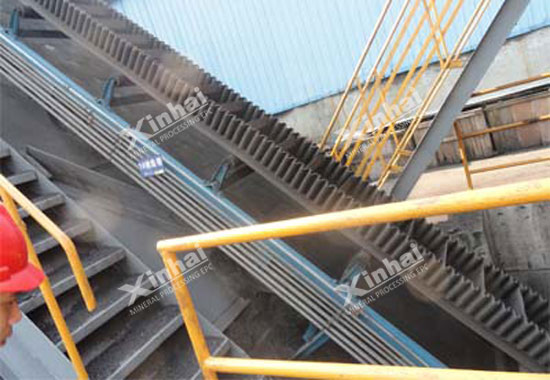 For more than 20 years, Xinhai always focuses on mineral processing machinery. It relies on powerful technology strength to pursue the innovation and breakthrough of mineral processing technology, then strive to provide our customer more efficient equipment and more considerate service.