Chaihulanzi 100tpd gold processing project was designed by Beijing Central Engineering Institute for Non-ferrous Metallurgical Industry in 1984, then put into production in 1986.
1. Ore properties: The mineral belonged to the medium temperature hydrothermal filling gold-bearing quartz vein-type deposit. The ore was sericite altered rock sulfide-barren gold-bearing quartz vein with deep oxidized and more mud. The main metallic minerals were limonite, followed by pyrite, hematite and natural gold. The gangue minerals were mainly quartz, followed by feldspar, chlorite, mica and calcite.
Natural gold associated with gangue minerals. Gold dissemination size was fine and uneven, and the general particle size was 0.037 mm. Mineral density was 2.65 t /㎥.
2. Process: Xinhai decided to adopt direct cyanidation, countercurrent washing and zinc powder replacement process. The final product was alloy gold and silver, as follows.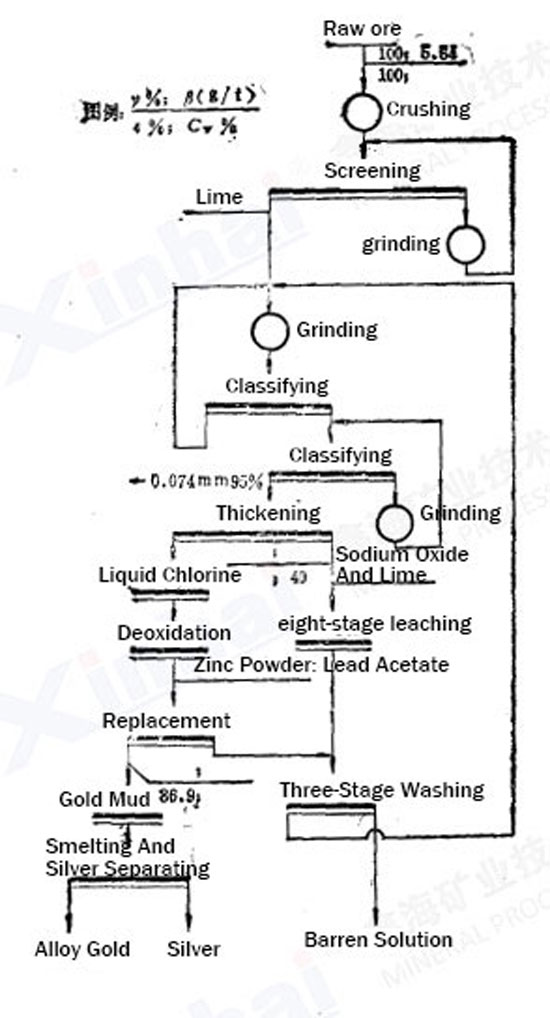 Ore cyanide is commonly known as all-slime cyanidation, which is seldom used in Chinese gold processing plant due to ore properties. At present, this process has been used in some gold plants in Tuanjiegou, Chiweigou and Chaihulanzi. However, this process occupies a leading position in foreign gold processing plants. All-slime cyanidation process is more suitable to deal with refractory oxidized ore. The leaching equipment used in this plant adopted a new type of axial-flow energy saving agitation tank with less energy consumption and higher efficiency.
Table 14.11-9 Process Indexes
Item
Unit
Index
Note
Ore Grade
g/t
5.64
trial production index
Leaching Rate
%
92.39
Washing Rate
%
94.06
Replacement Rate
%
94.79 (barren solution returns to leaching)
Cyanide Recovery Rate
%
86.90
Table14.11-10 Unit Consumption Index
| | | | | | | | | |
| --- | --- | --- | --- | --- | --- | --- | --- | --- |
| Name | Water | Electricity | Steel Ball | Sodium Cyanide | Flocculant | Zinc Powder | Lead Acetate | Liquid Chlorine |
| Unit | ㎥/t | kW·h/t | kg/t | kg/t | kg/t | kg/t | kg/t | kg/t |
| Quantity | | | 5 | 1.28 | 0.051 | 0.31 | 0.038 | 1.28 |
Table14.11-11 Main Equipment