Xincheng 500t/d gold ore project was designed by Beijing Central Engineering Institute for Non-ferrous Metallurgical Industries in 1977, and put into production in early 1979.
1. Ore property: The ore was middle temperature hydrothermal alteration granite type gold deposit, whose body is deposited in ore-bearing alteration zone of sericitization, chloritization, silicification, pyritization and carbonatization. The main metal minerals included pyrite, a little chalcopyrite, galena, sphalerite and electrum, and gangue minerals were mainly quartz and sericite, followed by chlorite and calcite. The ore property was similar to quartz vein type gold deposit in China, both of them were sulfide-poor gold-bearing deposit, which contained low sulfur and less harmful impurities. Gold disseminated extent is relatively fine, which generally occurred in fissure and intercrystalline of metal sulfides. The inclusion gold was relatively less, gold ore that occurred in the fissure and intercrystalline of pyrite accounted for more than 60%. The grain size of natural gold was generally 0.002 ~ 0.02 mm, and the mineral density was 2.78 t/m3.
2. Process flow: Gold-bearing sulfur concentrate was obtained by flotation process, and its recovery rate was about 95%. After regrinding, cyanide leaching and zinc powder replacement, the gold mud and sulfur concentrate (i.e. leaching residue) were obtained. Then Xinhai sent gold mud to smelt then got alloy gold. The final products were gold ingot and silver ingot. The process flow was shown in figure.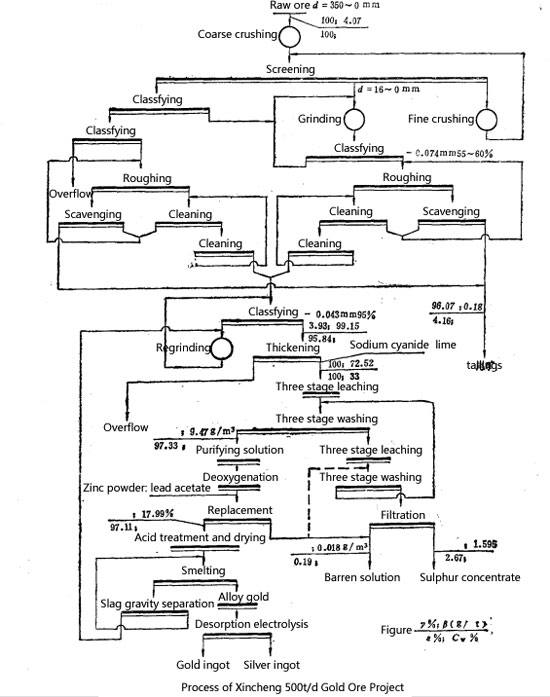 Xincheng 500t/d gold ore plant was a relatively complete gold processing plant by summarizing practical experience in mineral processing. Xinhai removed the pipe filter that used in non-ferrous metal wet metallurgy enterprise to liquid purification, which achieved a good result. It was the first time that diatomite successfully applied in gold cyanidation factory as filter aid.
Table 14.11-3 Process Index
Name
Unit
1984
1985
Notes
Ore Grade
g/t
4.03
4.48
Grade of raw ore is different from concentrate grade. Best respectively sampling.
Concentrate Grade
g/t
94.49
92.11
Flotation Recovery Rate
%
95.67
95.48
Grade of Raw Ore
g/t
71.76
72.63
Grade of Leach Residue
g/t
1.65
1.07
Cyanide Leaching Rate
%
97.06
98.52
Washing Rate
%
99.57
99.66
Replacement Rate
%
99.71
99.86
Cyaniding Rate
%
96.36
98.05

Grade of Barren Solution
g/㎥
10.277
14.03
Grade of Barren Solution
g/㎥
0.0337
0.029
Grade of Gold Mud
%
16.31
18.64
Table 14.11-4 Unit Consumption Index
Task
Flotation (by raw ore)
Cyaniding (by concentrate)
Name
Water
Electricity
Steel Ball
Lime
Xanthate
2#Oil
Sodium Cyanide
Zinc Powder
Lead Acetate
Unit
㎥/t
kW·h/t
kg/t
kg/t
kg/t
kg/t
kg/t
kg/t
kg/t
Quantity
2.98
33.17
2.27
0.8
0.088
0.044
5.31
0.386
0.004
Notes: Water, electricity and steel balls are total consumption.
Table 14.11-5 Main Equipment
| | | | |
| --- | --- | --- | --- |
| No | Equipment Name and Specification | Quantity | Notes |
| 1 | 400×600 Jaw Crusher | 1 | |
| 2 | PYZ-1200 Medium Cone Crusher | 1 | |
| 3 | SZZz1500×4000 Vibrating Screen | 1 | |
| 4 | FLG-1200 Single-spiral Classifier | 1 | Ore Washing |
| 5 | TNZ-9 Thickener | 1 | Ore Washing |
| 6 | MQG2100×2200 Wet Grid Ball Mill | 2 | |
| 7 | FLG-1500 Single-spiral Classifier | 2 | |
| 8 | XJK-0.35 Flotation Cell | 12 | Used for Slime Flotation |
| 9 | XJK-1.1 Flotation Cell | 28 | |
| 10 | TNZ-12 Thickener | 1 | Above is Flotation Process |
| 11 | φ125 Hydrocyclone | 4 | Following is Cyaniding Process |
| 12 | MQY1500×3000 Overflow Ball Mill | 1 | |
| 13 | φ3000×3000 Leaching Agitation Tank | 6 | |
| 14 | φ9000 Three-layer Thickener | 2 | |
| 15 | 20㎡ Pipe Filter | 2 | |
| 16 | BAY20/635-25 Press Filter | 1 | |
| 17 | 10㎡ Folding Belt Filter | 2 | |