Recently, a good news came from Colombia 1000tpd copper ore dressing plant. This project has successfully produced the first copper ore with a recovery rate of 87.15%.
Colombia is the richest field of green gems in the world. Besides, the main mineral resources includes oil, coal, natural gas, uranium and gold. And the copper production is relatively less, which is mainly exported as by-product of gold.
Santiago Angel, President of Columbia Chamber of Mines, said, as the engine for Columbia economic growth, copper had tremendous potential in the next five years, and it was likely to be a new product in the next few years. And he believed that there would be a viable copper project in the coming years.
Xinhai always paid close attention to the global mining market, and made lots of research on copper ore in Colombia. During the process of research, the head of Columbia ICER contacted Xinhai and consult some mineral processing equipment and processes. In the process of communication, ICER Company learned that Xinhai had set up a branch office in Latin America, which was located in Peru, sub-Colombia. In addition, ICER Company also knew that Xinhai was involved in multiple mineral processing plants in Peru and Chile. This undoubtedly strengthened ICER's confidence in cooperating with Xinhai. Finally, ICER Company successfully signed the mineral processing EPC service with Xinhai in October 2016.
At the same time, Xinhai provided the ore dressing test to optimize the process flow. The client said, many small and medium-sized mineral processing plants paid little attention to the ore dressing test in Colombia, which caused frequent ore dressing problems and low recovery rate.
Therefore, ICER Company asked Xinhai to carry on the ore dressing test and customize the process. According to the ore dressing test, Xinhai learned that the copper was mainly oxidized ore, and a small amount of sulphide ore. In the future, sulphide ore would occupy mostly, and a small number of oxidized ore. According to the change of ore properties, Xinhai finally designed a set of optimal separation process by relying on more than 20 years of experience—single flotation process. After grinding, sulfide ore was processed by single-stage roughing, two-stage scavenging, oxidized ore was processed by single-stage roughing, three-stage scavenging and two-stage cleaning.
In the end, the yield of bulk concentrate was 30%, the grade of copper concentrate was 25.95%, and the recovery rate reached 87.15%. Depending on the reasonable ore dressing test and process, Xinhai helped ICER Company to realize high efficient recovery of copper concentrate, and also confirmed Santiago Angel's notion of "huge potential in copper".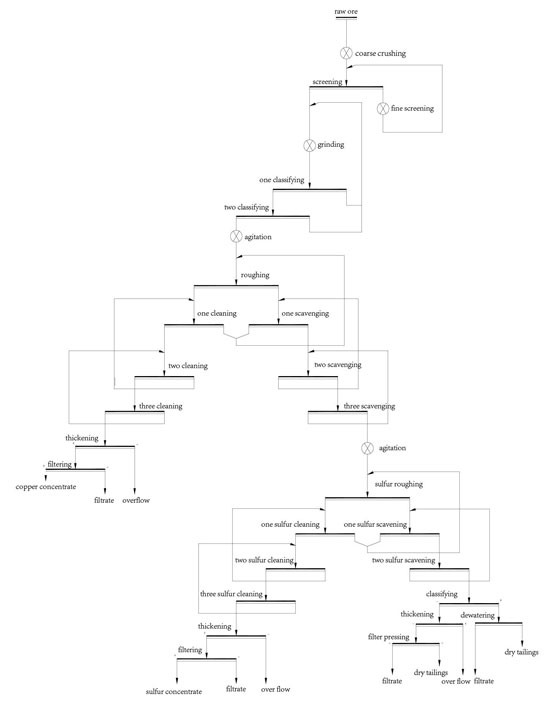 Through the cooperation with ICER Company, Xinhai successfully took a solid step in the Colombian mining market and achieved good achievement.
At present, Xinhai is actively engaged in "One Belt And One Road" Initiative, more than 600 mineral processing EPC plants are located in more than 90 countries and regions around the world. Across the region, most mining companies are facing with the decreasing of investment cost and operating cost in unit copper output, whereas high capacity, low operation cost and the service system that Latin American mining market needs is exactly what Xinhai provides.