In modern ore dressing, cone crusher has become a kind of crushing equipment with a wide range of application, its higher crushing ratio, low energy consumption and even product granularity make it suitable for crushing medium hardness ore, so it is widely applied in secondary and fine crushing of all kinds of ferrous and non-ferrous metals, which effectively reduces the grinding granularity, achieves more crushing less grinding result, at the same time, it also improves the ability of ball mill, then improves the economic benefits.
In the daily operation, cone crusher inevitably has some disadvantages due to long time use and equipment factor, which affect the normal production. Therefore, Xinhai technicians have made an in-depth discussion on shortcomings of cone crusher, and strived to provide the best crushing equipment for our customers.
Here we introduced four big problems of cone crusher and relative measures.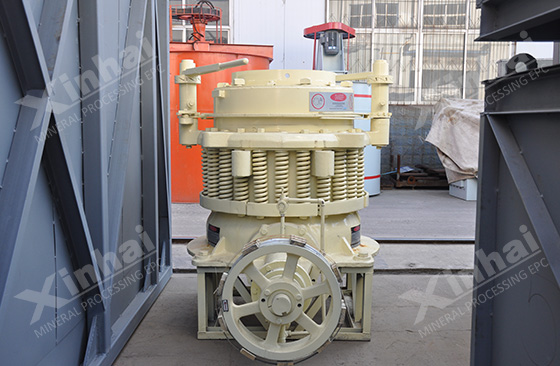 Unreasonable anti-dust device.
The dustproof pipe is easy to block, a large amount of dust enters to thin oil station then causes serious lubricating oil pollution. Therefore, lubricating oil needs to be changed frequently, and the polluted oil is easy to cause oil pump damage. So Xinhai adopts dry oil or water seal two ways, which make dust impurities cannot enter crusher so as to guarantee the clean of lubricating oil, prolong the service life of sliding bearing and thrust ball bearings, then make the machine run properly.
Unreliable insurance devices lead to difficulty in clearing cavity.
If cone crusher stops, the cavity will be filled with ore that needs to remove the funnel for manual cleaning. Xinhai spring cone crusher uses spring type protection device and lubrication system, which make cone crusher can be protected in the case of overloading, greatly reduce downtime and has good bearing lubrication.
Unreasonable cavity structure, limited crushing surface, so the production efficiency is lower.
The horizontal driving shaft of conventional spring cone crusher uses horizontal copper bush with short service life, low speed and high failure rate. Xinhai successfully develops a variety of crushing cavity for customers to choose. Customer can select the appropriate crushing chamber and eccentric distance to maximize high production.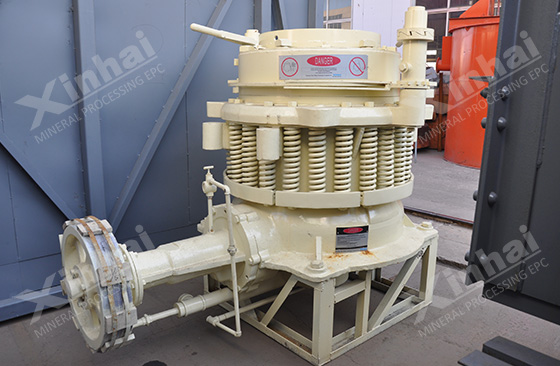 Long maintenance cycle and easily damaged parts.
This main wearing parts of this crusher are moving cone liner and fixed cone liner. Because of complex dismantling process and troublesome fill material casting process, another adjusting collar device and main shaft device need to be prepared. So Xinhai increases the thickness of liner, which extends its service life, and adopts high strength material used in key components, which increases the weight and enhances the reliability.
Xinhai fully considers the crushing needs, and balances high efficiency with low consumption. It totally stands out in the crushing equipment by relying on its high efficiency and reliable performances. Whether it's working condition, or final crushing products, Xinhai spring cone crusher finally won customers' praises.