As a common equipment used in ore dressing plant, vibrating screen mainly uses vibrator to produce reciprocating vibration, push the movement of the screen mesh then complete the screening operation. According to the moving trajectory, vibrating screen can be divided into linear vibrating screen, round vibrating screen and custom vibrating screen.
1. Application of Vibrating Screen
The flow of ore dressing production line is divided into pre-beneficiation, separation and tailing treatment, in which the vibrating screen is mainly responsible for material screening after crushing, and sending the qualified materials to the next grinding operation. That disqualified material is returned to the crusher again.
2. Effects of Poor Maintainance
As the above mentioned, the foundation of vibrating screen in the ore dressing process is equivalent to the base of house. High buildings cannot rise from the ground without the solid base. So, if you want to make sure vibration screen can complete screening operation effectively, you need not only to choose a good vibrating screen, but also to know how to maintain well in the application process. It is inevitable to meet troubles if the operation personnel run it in a wrong way or equipment is not maintained regularly, which not only affects the production schedule, but also reduces the economic benefits of the plant. That every mining enterprise would rather not to see!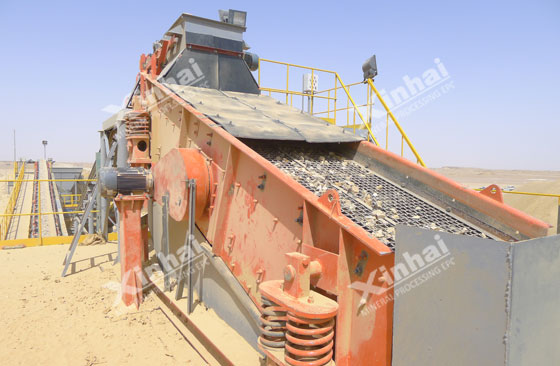 3. Correct Methods to Maintain Vibrating Screen
Initial planning: Xinhai mineral processing technician shall check the equipment before installing the vibrating screen, do the rust-proof work for the vibrating screen, and install the equipment strictly in accordance with the instructions.
Later maintenance: Xinhai mineral processing technician shall select the appropriate running time to carry out the vibration screen inspection, including gas-dynamic conditions, noise, amplitude, screen box vibrating, bearing temperature, lubrication.
In addition, Xinhai mineral processing technician also suggest paying attention to the regular inspection and daily maintenance of vibration screen, such as the maintenance of screen mesh. During this period, Xinhai will send the professional maintenance personnel to the site for maintaining the vibrating screen according to the actual production, and ensure the maximization of enterprise benefits.