Use the table of contents below to navigate through the guide:
01
Desorption Electrolysis System Introduction
Mainly used for gold loaded carbon of gold CIL, Xinhai high efficiency desorption electrolysis system CIL technology process can separate gold from gold loaded carbon then desposited into gold mud, characterized by high efficiency and quickly, lower energy consumption, this mineral processing method is an essential system for producing finished gold.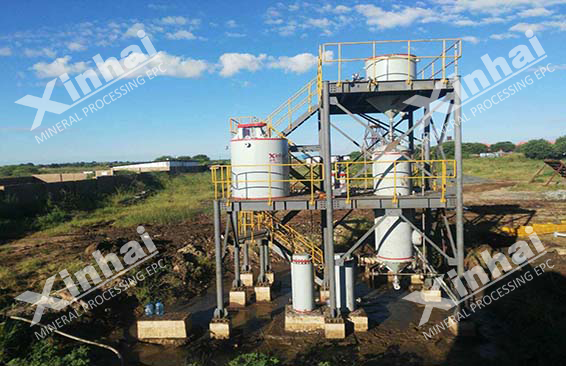 02
Features Of Desorption Electrolysis System
Characterized by high efficiency and quickly, lower energy consumption, this auto control with high temperature, high pressure and oxygen free desorption electrolysis CIL system has safety facilities, advanced technology index, as well as features like easy to control and stable operation.
1. High efficiency
Poor carbon keeps low in grade, 96% desorption rate can be get when gold loaded grade reaches 3000g/t.
Poor carbon grade can lower 3 - 4 times than the common system, which can beneficial to improve adsorption rate of drain rate, what's more, it also lower gold loss of cyanide tailings, which can improve practical recovery rate.
2.Quick
Xinhai desorption electrolysis system can reach 150℃, 0.5Mpa, which is higher 0.2-0.5MPa of ordinary one, lower almost 3 times than ordinary system operation time, and can finish desorption with 12-14 h.
3. Lower energy consumption
Saving 1/2 to 1/4 power than common system.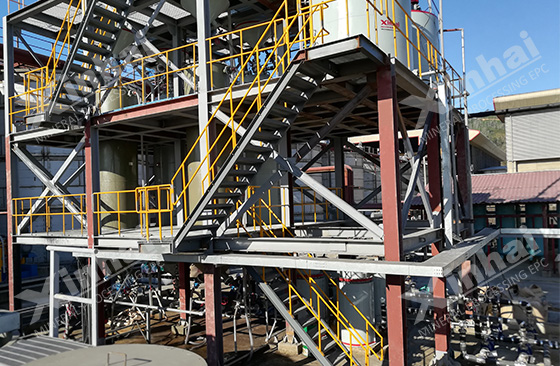 4. Oxygen free
Without sodium added in desorption liquid, Xinhai high efficiency desorption electrolysis system featured by low cost and zero pollution.
This system can provide negative materials due to customers request, gold mud also has higher grade than the ordinary one, which don not need anti-elcctrolysis, and easy to extract as well as saving cost.
5. The automatic control level buffering mechanism
On account of liquid gasification and the changes of system pressure when system operating, level buffering mechanism produced, which can automatically counteract the level changes and keep stable liquid level.
Temperature control system: when temperature reaches the set value, the system can cut some of the electric heaters, leave other electric heaters operating normally. Otherwise, the cut electric heaters will be put into operation to keep the system temperature running in a stable set value.
6. Triple safety measures
First of all, automatically intelligent system. If circulating pump is not running, liquid will not flow, in case of local steaming and pressure rise, the electric heater will stop working as well, this happens to blockage too. Meanwhile, when circulating pump start to work properly, or pressure slow down, electric heater will put into operation automatically.
Secondly, specialized pressure release system has been installed. When system pressure is over high, this system will release pressure automatically until to the normal value.
Thirdly, safely valve has been installed. Only when the above measures jointly out of work that runs the safely valve.
03
System Structure of Desorption Electrolysis System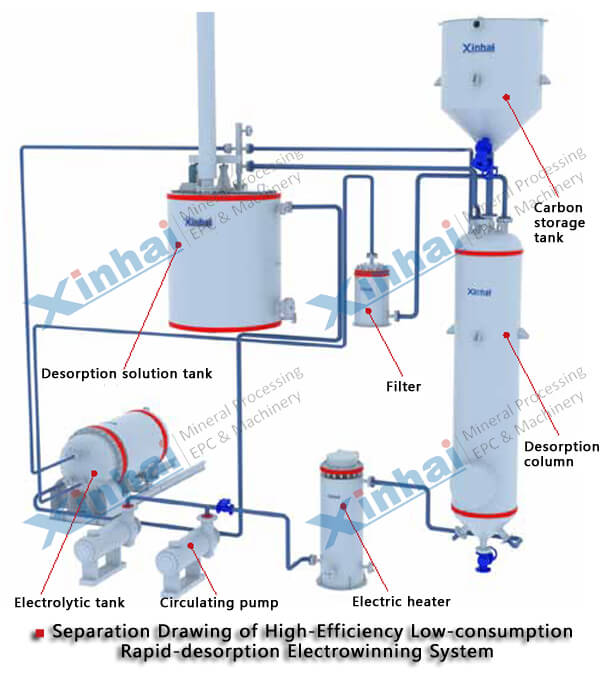 Xinhai high efficiency desorption electrolysis system mainly composed of desorption part, electrolysis part, instrument control section, and pipe valve, etc. each part deeply interpenetrated with each other to form a complete system.
04
Cases of Desorption Electrolysis System
1. Busolwa 1200tpd Gold Mine Project, Tanzania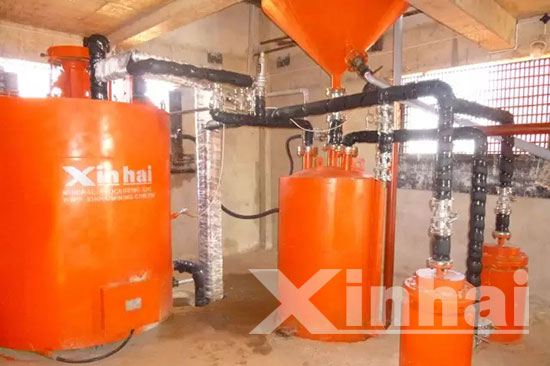 Desorption electrolysis system is an essential part of the all slime cyaniding CIL technology process. Desorption electrolysis is a set of system, the following is a panorama of desorption electrolysis system of the factory. >>>View more
2. Iron Cap 700tpd Gold Mine Project, Zimbabwe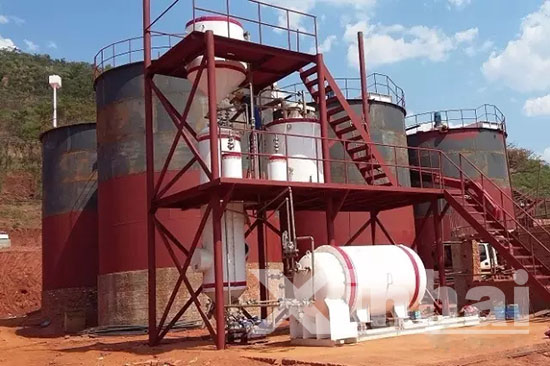 This is electrolysis system of finished installation. Leaching system absorbs gold loaded carbon, then put them into high temperature and pressure electrolysis system to extract gold. alloy gold can be get after smelting the gold mud in high efficiency melting furnace.